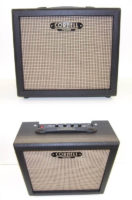 Cornell offers bargain Traveller
As if to dispel the idea that boutique all-valve guitar amps have to cost the price of a small car, the UK's Cornell has announced its hand built 5 Watt Traveller combo with an RRP of just £499.
Cornell says the Traveller 5 is hand made to the same build quality and uses the same high specification components as all the Cornell range of amplifiers, with all components connected by the use of Turret Tags and Eyelets.
Powered by 1x ECC83 valve in the pre-amp stage and 1x EL84 valve in the output stage, the Traveller 5 delivers its 5Watts of all valve output and tone through a Celestion 8″ speaker. In common with other Cornell amps, like the Romany, Plexi, and Vintage Brown 10, the Traveller 5 also incorporates a four-stage output attenuation.
Offering 0.05, 0.25, 1.5 and 5 Watt outputs, the Traveller 5 not only allows the amplifier to be overdriven harder at lower output levels, Cornell says, but a wide range of distorted overtones can be achieved utilising both pre-amp and output distortion, whilst the introduction of the new in-house designed 'Clean/Mean' switch, offers two core tones for controlled flexibility.
'In 'Clean' setting, the Traveller 5 has heaps of headroom delivering a crisp, warm valve-clean for fingerpicking and chiming chords, set to 'Mean' a noticeable midrange boost provides a healthy crunch that's ideal for blues and rock.
'Controls are kept to a minimum with Volume, Gain, Tone, 4-way output rotary and that handy Clean/Mean switch on the top loaded, rear facing control panel. The panel also contains Hi-Lo balanced inputs and Extension Speaker output socket'.
Finished in black Tolex, with a basket weave speaker grill and Cornell branded, the Traveller weighs just 10.5 kilos and sells for RRP £499.
Info: www.cornellamps.com
The post Cornell offers bargain Traveller appeared first on Music Instrument News.
Source: musicinstrumentnews.co.uk