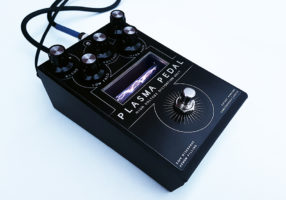 Gamechanger PLASMA – it's a gas at NAMM
Following last year's success with its first product, the PLUS Pedal, Gamechanger Audio returned to Summer NAMM with a second invention, the PLASMA Pedal and a 19-inch PLASMA rack unit made especially for the Summer NAMM visitors. PLASMA was crowd-funded this spring via IndieGoGo and has already received more than two thousand pre-orders from musicians. The company says it has also received a positive feedback from music industry professionals who work with artists such as Rammstein, Rolling Stones, Coldplay, Roger Waters and Unknown Mortal Orchestra.
The PLASMA Pedal generates what its maker describes as 'heavy, yet transparent distortion with tons of unique character and lightning-fast dynamic response' by transforming audio signal into a series of high-voltage plasma discharges inside a special gas-filled tube. 'Yes,' Gamechanger says, 'you are actually playing a bolt of electricity, and the beautiful open design allows you to observe the electrical discharges as you play'.
Gamechanger says that thanks to this unique method of achieving distortion, the PLASMA Pedal can enhance and sustain the overtones of the input signal in a very distinctive way and this sound is instantly recognisable. PLASMA Pedal can be used with guitar as well as bass, synthesisers, pedal-steel and even drums.
Shipping of the first units is set for early September and the production process is in full swing, Gamechanger adds.
Ind.: www.gamechangeraudio.com
The post Gamechanger PLASMA – it's a gas at NAMM appeared first on Music Instrument News.
Source: musicinstrumentnews.co.uk