Fender unveils a host of new gear at Summer NAMM 2018
Never one to be outdone on home territory, Fender used the first day of Summer NAMM in Nashville, USA, to launch a host of new products, ranging from signature electric guitars, acoustic guitars and basses, effects pedals, IEM systems and a tweed Bluetooth speaker.
The three signature models are a Flea Jazz Bass Active, Albert Hammond Jr. Stratocaster, Jimi Hendrix Stratocaster, and a new colour option (Lake Placid Blue) for the Johnny Marr Jaguar.
The Flea Jazz Bass Active (£1,599.00) launches in October 2018 and sports a satin finish with matching headstock. The custom-shaped Jazz Bass body and a hot Fender humbucking pickup with an Aguilar OBP-1 18-volt preamp. The brainchild of Flea and Fender Custom Shop Master Builder Jason Smith, also a Flea/Red Hot Chili Peppers fan and bass player himself- this is the bass Flea plays live in concert, Fender says.
The Albert Hammond Jr. Stratocaster (£839.00) launches in October and is a 1985 reissue of a '72 Strat with a unique touch. It features replicated Hammond Jr. customised pickups switching: pickup switch position four activates the neck and bridge pickups in tandem, while positions one and three are reversed from the traditional layout. Hammond Jr.'s signature graces the back of the large '70s-style headstock, while other '70s-inspired features include bullet truss rod nut, 3-bolt "F"-stamped neck plate with period-correct Micro-Tilt adjustment and a '70s-era logo.
The Jimi Hendrix Stratocaster (£799.00) features signature touches and unique appointments based on his distinctive "flipped-over" guitars. A trio of American Vintage '65 single-coil pickups includes a reverse-slant bridge pickup. The 9.5"-radius "C"-shaped maple neck with medium jumbo frets offers a flatter playing surface. The Jimi Hendrix Stratocaster is offered in 3 Colour Sunburst and Ultra Violet (limited edition in 2018) – Pantone's "Colour of the Year" for 2018.
The Johnny Marr Jaguar (£2,069) is based on Marr's modified 1965 Jaguar. Originally launched in 2012, the Johnny Marr Jaguar is getting a limited run in a new '60s vintage-era colour: Lake Placid Blue, which coincides with the release of his new album, Call The Comet. Dual custom-wound Bare Knuckle Johnny Marr single-coil pickups are featured alongside a four-position blade pickup, thicker tone and higher output, dual upper-horn slide switches, and a 7.25"-radius rosewood fingerboard with 22 vintage-style frets.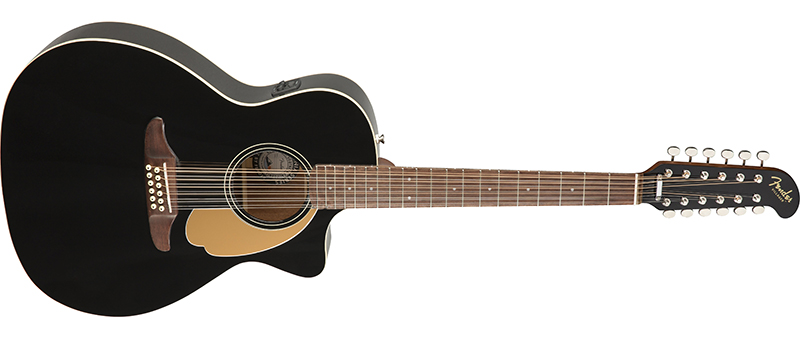 Fender has also added new models to its California Series acoustic guitars and new colours in the California Coast Series Ukulele. Joining the California Series are four new models: the Villager 12-String Guitar, Kingman Bass Guitar, left-handed Newporter and left-handed Redondo Player guitars. Following suit, the California Coast Series Ukuleles has expanded to offer three new colours to the Venice and Zuma models.
The Redondo Player (left-handed) will sell for £320.00, the Newporter Player (left-handed) will also sell for £320.00, while the stylish Villager 12-String will have an RRP of £435.00. The Kingman Bass will sell at £519.
Meanwhile California Coast Series Ukuleles include the Venice Soprano (£52.00) and the Zuma Classic (£115.00).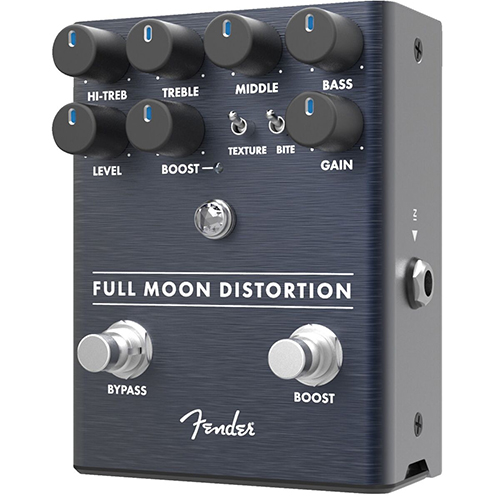 New Fender effects pedals joining the first batch launched in February, will include the Engager Boost, The Pelt Fuzz, and the Full Moon, priced from £87.00 to £135.00. Fender says: 'The enclosures are engineered for heavy-duty use, while LED-backlit knobs and LED Fender amp jewels show control settings at a glance, perfect for every environment. For ease of use, each pedal features an exclusive, patent-applied-for, magnetically-latched 9V battery door, making it quick and easy to change batteries, as well as streamlined labeling'. It goes on to stress they are all new designs, not clones of other pedals or reissues. They will be available in September.
Finally, Fender announced the launch of a line of Professional In-Ear Monitors and a new Monterey Tweed Bluetooth Speaker. Designed and hand assembled in Fender's audio design lab in Nashville, Tenn., the Pro IEM Series: '…features innovative driver and housing designs that deliver the most precise, authentic, lifelike and full frequency range. Designed to withstand the rigors and demands of live performance, the Pro IEM's Digital Hybrid Technology (DHT) housing is 3D-printed in Nashville and features interchangeable tips for a near-custom fit'.
Available in August Pro IEM Series Models Include:
NINE–(9.25mm Dynamic) – £89.00
NINE-1–(9.25mm Dynamic + 1 BA) – £215.00
TEN-3–(10mm Dynamic + 3 BA) – £699.00
TEN-5–(10mm Dynamic + 5 BA) – £999.00
THIRTEEN-6–(13.6mm Dynamic + 6BA) – £1,549.00
The Bluetooth speaker is an all-new tweed version of Fender's Monterey Bluetooth speaker, originally released in black in 2017. A high-power, high-fidelity stereo Bluetooth streaming speaker, the Monterey Tweed is powered by an AC power source and supports aptX and ACC high quality digital audio codecs. Featuring an EQ preset switch to shape the sound for the room, as well as two 5.12" woofers and two 1" tweeters, it delivers 120 Watts and features Fender's '68 custom grille cloth, red jewel light, and chicken-and-head style knobs to adjust volume, bass and treble. It offers more than 33 feet of Bluetooth audio connectivity, will be available in October and will sell for £350.
Info: www.fender.com
The post Fender unveils a host of new gear at Summer NAMM 2018 appeared first on Music Instrument News.
Source: musicinstrumentnews.co.uk