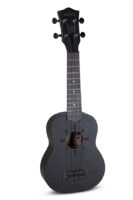 GEWA Music Introduces Limited Edition Ukuleles
With the Witchcraft and Manoa Wildlife ukuleles, GEWA music introduces limited edition instruments in a very special design.
The two Witchcraft ukuleles, which are in concert or soprano size, are specially developed for the upcoming mystical autumn season, and are available in limited editions, produce an enchanting sound in the truest sense of the word!
The eerily beautiful instruments have a dark look with their satin black lacquered bodies and necks made of sapele mahogany. The fingerboards and bridges are made of pakka wood, they have black nut and bridge inlays and nylon strings and are available with an included padded gig bag.
The three Manoa Wildlife Ukuleles in concert size, on the other hand, very quickly transport your mind to sunny beaches and summery holiday regions.
In addition to a warm, lively sound that is ideal for beach tunes, the ukuleles feature high-quality sapele tops with exotic turtle, lizard or swordfish laser design motifs, sapele backs and sides, and laurel fingerboards and bridges. Like the Witchcraft ukuleles, the Manoa Wildlife ukuleles are available with a padded gig bag.
More info at www.gewaguitars.com
The post GEWA Music Introduces Limited Edition Ukuleles appeared first on Music Instrument News.
Source: musicinstrumentnews.co.uk