Guitar Center revamps flagship Hollywood store
Guitar Center is set to open its newly redesigned flagship Hollywood store this coming Saturday, 3rd November – a 30,000 square-foot music experience on historic Sunset Boulevard.
The remodelled store features a tremendous assortment of musical instruments, a 15-foot-long interactive pedal display, a 24-foot-wide snare drum wall, interactive brand displays and the retailer's largest standalone vintage guitar room, featuring exclusive and rare vintage instruments. Music memorabilia is also showcased throughout the store, including Eric Clapton's "Blackie" Fender Stratocaster and other influential artists' gear from BB King, Slash, Johnny Cash, Eddie Van Halen and St. Vincent.
The iconic Hollywood store is set to debut nearly 33 years to the day after the location first opened in 1985.
'Guitar Center's five-million-dollar investment into our newly revitalized Hollywood flagship location transforms it into one of the largest musical instrument stores in the world, full of the greatest selection of music instruments, accessories, music memorabilia, state-of-the-art lessons facilities and more,' said Ron Japinga, Chief Executive Officer, Guitar Center. 'Exemplifying our deep commitment and investment in the music industry, we are thrilled to unveil our reimagined flagship location to the public. The redesigned Hollywood store represents a renewal of our legacy which lies at the heart of L.A.'s music scene and celebrates the rebirth of an icon – the greatest music store on earth.'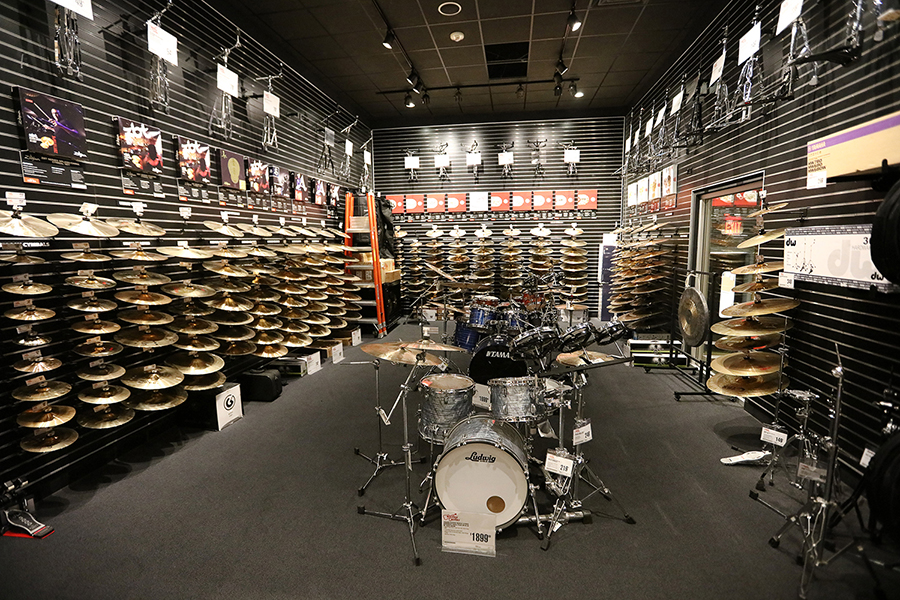 The massively refurbished new store is part of a programme in which GC continues to expand its commitment to bricks and mortar retailing. Its 290 current stores will be joined by up to eight new locations planned for 2019, including a new Guitar Center presence in Hawaii and Alaska.
To mark the re-opening, the company commissioned a bright new mural for the full-block façade of the store. Designed by street artists Amanda Lynn, Scott Marsh and Patrick Griffith, the mural prominently features Jimi Hendrix: '…alongside an up-and-coming artist finding her sound, with a collage of musical instruments that symbolize bringing the community together in harmony'.
The second floor of the Hollywood store is dedicated to a state-of-the-art, eight-room lessons facility. 'By investing in lessons facilities in all of its stores around the U.S., Guitar Center is filling the gap created by the decline of music education in schools – and working to give anyone who wants to play the opportunity to realize the benefits of learning and playing music,' the company says.
Info: www.guitarcenter.com
The post Guitar Center revamps flagship Hollywood store appeared first on Music Instrument News.
Source: musicinstrumentnews.co.uk