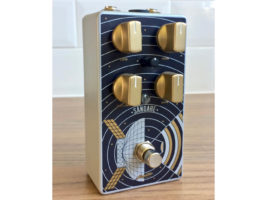 Magnetic Effects introduces the Sandare V2
A stompbox housing an organic drive and transparent booster.
Magnetic Effects has pulled the covers off the Sandare V2, an update to its original dynamic overdrive/booster unit.
The V2 retains two features from its first iteration: a dynamic, low-to-medium overdrive and a transparent booster that preserves the tonal qualities of guitars and amplifiers.
A new feature on the V2, however, is a voice control knob that can dial in an overall EQ response. It combines with "High" and "Low" knobs to further shape the pedal's frequency response. Tweak the three knobs accordingly to get an even-frequency tone or one that mirrors your guitar and amplifier's distinct properties. Elsewhere on the pedal's faceplate you'll find standard "Volume" and "Gain" knobs.
On top of its overdrive functions, the pedal also boasts a transparent booster. Its internal 'double voltage' circuit can raise the power input level up to 18V, injecting the driven sound with plenty of headroom.
Retails at GBP115. More info at magneticeffects.net.The post Magnetic Effects introduces the Sandare V2 appeared first on The Guitar Magazine.
Source: www.guitar-bass.net