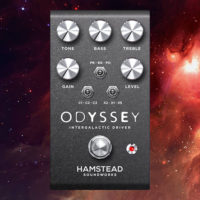 Hamstead's Odyssey
Hamstead Soundworks, the start-up UK amplifier manufacturer which made headlines with its fresh looking amplifiers in 2016, has decided to move into the effects market with the introduction of the Odyssey drive pedal. The all-analogue box offers three clipping circuits, on-board guitar and amp tone-shaping, 20 dB of clean treble and bass boost and what the manufacturer claims is a notable wide range of overdrive sounds.
The Odyssey offers a range of controls including interactive Drive (Tone and Gain controls) and EQ circuits (Bass, Treble and Level controls), while a trio of three-way mini toggle switches provide versatility and level control within input sensitivity, selectable distortion and EQ. Additionally, the Odyssey gives users a PR/EQ/PO. ACTIVE EQ switch which toggles the active EQ circuit before (PR) or after (PO) the 'Drive' circuit, whilst (EQ) selects bypass mode offering 20dB of clean tone shaping EQ boost.
With three input levels selectable on a switch plus a Drive Circuit control which offers complete control over symmetrical, asymmetrical and multiple clipping circuits, it's a well specified pedal that happens also to be the first to use GigRig's OptoKick optical footswitch for silent and reliable switching.
The RRP is £219.
Info: www.hamsteadsoundworks.com/
The post Hamstead's Odyssey appeared first on Music Instrument News.
Source: musicinstrumentnews.co.uk