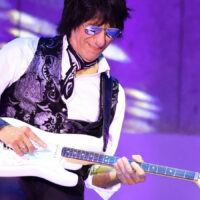 Jeff Beck – 1944 – 2023
Music Instrument News is sad to report the death of legendary guitarist Jeff Beck at the age of 78.
It is difficult to overstate the importance and reputation of Jeff Beck in the world of guitar. His sound innovations and ground-breaking albums leave a massive legacy of recorded work, and acknowledged influence and style developments on a host of world-famous names, from Jimmy Page to David Gilmour, and Johnny Marr.
Beck's rise to fame began when he was invited to join seminal British r 'n' b legends The Yardbirds following the departure of Jimmy Page. His tenure with the group was less than two years, but it coincided with their rise to fame, including the top three chart single Shapes Of Things.
It was following his departure from The Yardbirds, and his embarkation on a solo career, that saw the massive change in style and structure of his guitar playing that has given rise to the legendary status that Beck leaves behind.
His reputation as a stellar guitarist was already in place in the late 1960's and was evidenced by the invitations from The Rolling Stones to join the band as replacement for the deceased Brian Jones, and from Pink Floyd, to fill the gap left by the departed Syd Barrett.
After supporting jazz rock legends The Mahavishnu Orchestra, Beck recorded his first pioneering jazz fusion album Blow By Blow. The album was followed by two more critically and commercially successful albums, Wired in 1976 and There and Back in 1980, when he worked with the Mahavishnu Orchestra's Jan Hammer.
Jeff Beck was always modest about his pioneering technical guitar style. Receiving a Tribute Award at the Montreal Jazz Festival in 2009, Beck referred to his spontaneity as "A form of musical Tourette's", and "An involuntary spasm.", although his two explosive live shows at the Festival proved that his playing was never anything but completely under the complete control of his own towering musicianship.
Beck always refused to use plectrums, preferring to maintain complete physical contact with his Fender Stratocaster by playing only with his thumb and fingers. His original use of tapping techniques, and whammy bar gyrations only ever served to increase is reputation as a musician keen on taking the sound of the electric guitar into ever-evolving and developing sound structures.
Beck's output was curtailed through the 1980's due to onset of severe tinnitus, but he continued his exploratory work by collaborating with artists as diverse as Jon Bon Jovi, and Kate Bush.
Jeff Beck always prided himself on being a musician beyond categorisation. That approach was backed up by his long and incredibly diverse list of collaborations, stretching as far back as his guitar work with Stevie Wonder on the Talking Book album, and continuing in his work with artists ranging from Luciano Pavarotti, Macy Gray, Chrissie Hynde, Wynona Ryder, and Buddy Guy. More recently, Beck embraced even more exploratory work, joining with pop-soul artist Josh Stone, and his last collaboration, recording and touring with actor Johnny Depp.
Beck was inducted into the Rock And Roll Hall Of Fame twice – as a member of The Yardbirds, and as a solo artist, and further acknowledgement of of Beck's skill and style came from his receipt of no fewer than eight Grammy Awards.
Throughout his life, Jeff Beck tended to regard success and his peerless reputation and influence, as by-products of his craft, rather than the motivation for it. He never sought commercial rewards for his music, always keen to strive to explore further and further the unknown galaxy of sounds he could coax out of his guitar, and the constantly changing array of peerless musicians with whom he toured and recorded.
Jeff Beck spent his last years choosing collaborations he enjoyed, such as his album and live tour last year with actor Johnny Depp. The rest of the time he spent quietly at his country retreat with his wife Sandra, restoring his collection of vintage cars.
He died after a brief illness, following a bout of bacterial meningitis.
Music Instrument News sends condolences to Jeff's family, friends, and ex-band members.
The post Jeff Beck – 1944 – 2023 appeared first on Music Instrument News.
Source: musicinstrumentnews.co.uk