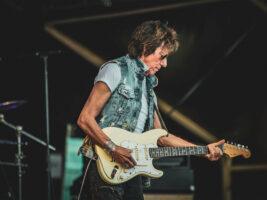 Watch: Footage from Jeff Beck's final live performance showcases spectacular guitar solo
News broke yesterday (11 January) that guitar icon Jeff Beck had sadly passed away aged 78 from meningitis – since then, fans have been watching footage of his final live performance online and reflecting on his success.
Beck passed away peacefully on 10 January after suddenly contracting the illness – news which shocked the world as Beck remained touring and releasing music right up until the end of 2022, having released his joint album with Johnny Depp, 18, in July which was followed by a US tour from October through to November.
Beck took to the stage for the last time alongside Depp on 12 November 2022 at Reno's Grand Sierra Resort with a 20-song setlist consisting of both originals and classic covers.
Footage of his performance that night is being re-watched by many, which showcase his unwavering talent. One video of the band playing This Is A Song For Miss Hedy Lamarr has gained particular traction, given the spectacular guitar work from Beck which will remain as a testament to his legendary career.
You can watch the performance below:
Beck rose to prominence with 60s blues-rock trailblazers The Yardbirds, after replacing Eric Clapton as their lead guitarist in 1965. A statement shared yesterday from his representatives said, "On behalf of his family, it is with deep and profound sadness that we share the news of Jeff Beck's passing. After suddenly contracting bacterial meningitis, he peacefully passed away yesterday. His family ask for privacy while they process this tremendous loss."
Artists such as Jimmy Page, Eric Clapton, Ronnie Wood, David Gilmour, Joe Bonamassa and many more have shared their tributes to the guitarist.
Our thoughts are with the family, friends and fans of Jeff Beck.
The post Watch: Footage from Jeff Beck's final live performance showcases spectacular guitar solo appeared first on Guitar.com | All Things Guitar.
Source: www.guitar-bass.net