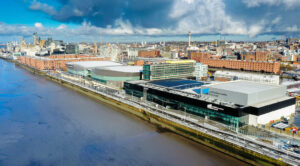 Jeff Berlin Joins Line-up at The UK Bass Guitar Show
Jeff Berlin has been announced as the latest artist to appear at The UK Bass Guitar Show, alongside sister shows The UK Drum Show, The UK Acoustic Guitar Show and The UK Electric Guitar Show at the ACC Liverpool April 2 & 3.
Jack Bruce, Bassist for the iconic band CREAM, once described Jeff Berlin as "The best bass player I've ever heard."
For over 40 years, Jeff has stood as one of the most innovative electric bassists of the 20th and 21st centuries. Known for his one-of-a-kind tone, jaw dropping technique and highly advanced harmonic approaches to the bass, Jeff has been one of the major figures in firmly establishing the electric bass as a solo instrument well deserving of its own distinct place in modern music.
 Jeff has also distinguished himself as one the premier teachers of bass education throughout the world.  For 10 years he owned and operated the Players School in Clearwater, Florida. Now in Nashville since 2017, Jeff continues his mission through Jeff Berlin Bass Education. In direct contrast to what has recently become the popular but more superficial approach to bass education, Jeff uses the proven method of pedagogical musical training; this classic teaching method emphasizes the fundamentals, such as reading music, understanding chord tones and their applications, playing in 12 keys, approach notes, and walking blues.
 Jeff's recording and performance credits include a who's who of jazz and rock. They include: Bill Bruford, Allan Holdsworth, Larry Coryell, Pat Martino, John McLaughlin, Yes, Frank Zappa, Patrick Moraz and many more.
"We are thrilled to welcome Jeff Berlin to The UK Bass Guitar Show" says Neil Golding, show organiser. "With tickets being purchased for our shows for next year, we want to ensure, with our return to live events, the best possible experience for our guests".
Businesses wanting to exhibit should contact Neil Golding neil@goldmediaandevents.co.uk or call +44(0)7717 404 243
www.theukacousticguitarshow.com
www.theukbassguitarshow.com
www.theukdrumshow.com
www.theukelectricguitarshow.com

The post Jeff Berlin Joins Line-up at The UK Bass Guitar Show appeared first on Music Instrument News.
Source: musicinstrumentnews.co.uk