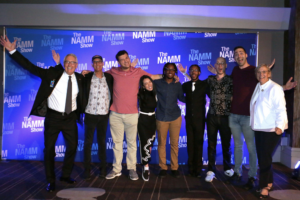 NAMM Foundation Recognizes and Thanks Generous Donors at The 2022 NAMM Show
The generosity of NAMM Members was on full display at The 2022 NAMM Show's global reception, where members were recognized for their donations to The NAMM Foundation. Each donation will help the Foundation continue its work to advance music-making and learning opportunities for people of all ages and abilities, scientific research, philanthropic giving, and other public service programs.
NAMM Foundation Chair Tom Sumner,  NAMM Foundation Executive Director Mary Luehrsen, and NAMM President and CEO Joe Lamond were on hand to receive and express their gratitude to the philanthropic industry leaders for their unwavering commitment to the vision of creating a more musical world.
At the ceremony, Luehrsen shared, "The work of the NAMM Foundation would not be possible without the generosity of our members and other donors. Collectively, so much can be done to advance music-making, and each gift to The NAMM Foundation brings our industry one step closer to realizing a more musical world."
Honorees at the presentation included Chris Martin, Martin Guitar Co.; The Gretsch Family; Michael Reisman, The Liz Reisman Fund; Chuck Surack, Sweetwater; and The Ash Family, among many others. View the photos here: https://namm.pixieset.com/the2022nammfoundationdonorphotos/
The presentation also welcomed the first recipients of the Bernice Ash Memorial Scholarship Fund: Kwante Greenridge (Sam Ash Music) and Anna Nguyen (Yamaha). Established in 2021, the Fund will annually recognize one to two award winners with a one-time grant in the amount of $5,000 for use in continued college-level or trade-related studies and a travel stipend to attend The NAMM Show in Anaheim, California. Recipients will also receive a one-year mentorship through the NAMM Young Professionals group. The Bernice Ash Memorial Award was created with leadership gifts from Fred and Dinah Gretsch, Jerry Ash and members of the Ash Family, and Larry Morton. The application period for the Bernice Ash Memorial Award is now open and will close on December 1, 2022. Learn more here: https://www.nammfoundation.org/educator-resources/bernice-ash-memorial-scholarship-fund

The post NAMM Foundation Recognizes and Thanks Generous Donors at The 2022 NAMM Show appeared first on Music Instrument News.
Source: musicinstrumentnews.co.uk