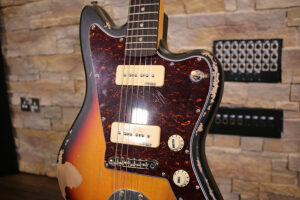 Review – Vintage Guitars Icon Series V65
Here's the latest review from the team at our sister-site Electric Guitar Review of a Vintage Guitars Icon Series V65, featuring…
Offset Alder body,
Distressed Tobacco Sunburst finish,
25.5″ scale length,
Rosewood fingerboard,
1-piece 'Soft-C' profile Maple neck,
2 x Wilkinson Soapbar single coil pick-ups,
3-way pick-up selector,
Master volume & tone controls,
WJ55 machineheads,
Roller bridge & vibrato system.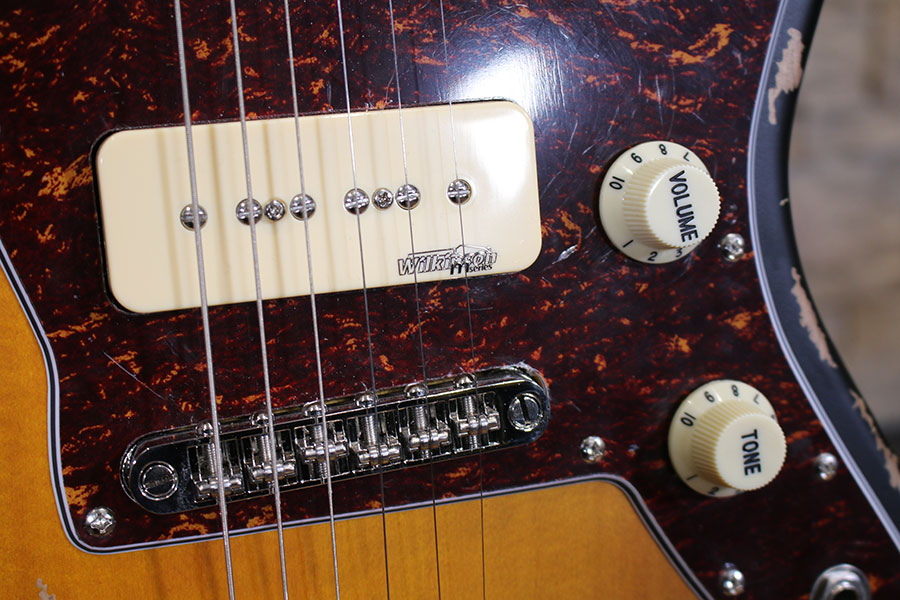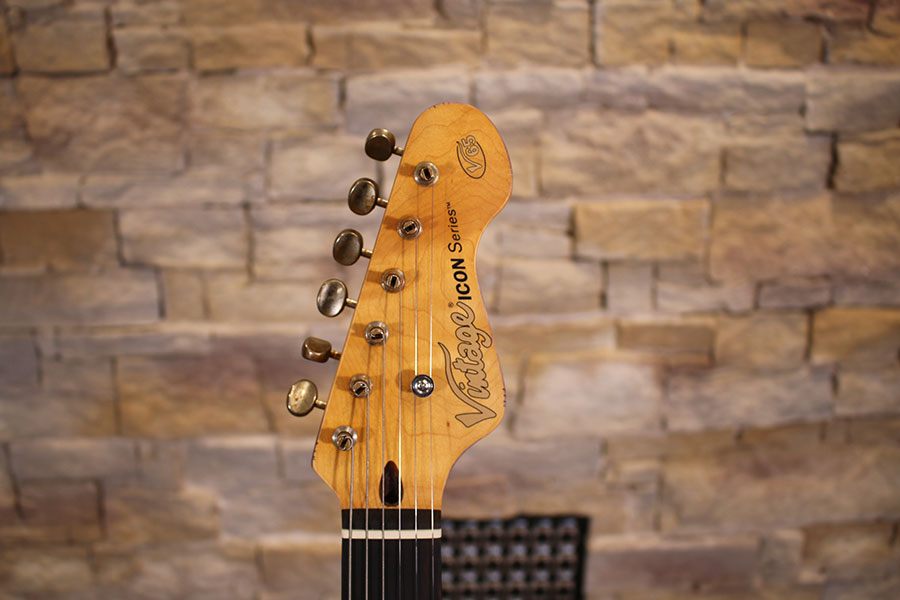 Vintage Guitars Says…"A stalwart of the independent rock scene, the offset electric has established itself as the quintessential, iconic alternative guitar. Angular and chaotic, just like the sounds it contains, the Vintage V65VMRSB has the appearance of a battle-hardened road warrior and is the perfect instrument for those players who operate on the fringes of guitar society; the six string of choice for the anti-traditionalist.
Combining a pair of soapbar single coil pickups via a three way selector switch, the V65VMRSB is capable of shifting between jangly cleans and raking highs to drop tuned distorted riffs and pedal-powered walls of sound; what's more, the inclusion of a traditional, long-arm vibrato system allows for hypnotic pitch manipulation and mesmeric glides between chords. For the guitarist who flies in the face of convention, the Vintage V65VMRSB is here to help you make beautiful noise.
Good things come to those who wait – but who has the time for that? The Vintage ICON Series replicates the beautiful, worn-in look and feel of an instrument that has paid its dues, without investing the lifetime's worth of woodshedding, rehearsing, performing and travel. This is a guitar that already looks like your lifetime companion; the best part is your journey is just beginning. Play on."
Find out the team's thoughts in the video above!!
Vintage Guitars Icon Series V65 – UK RRP: £429.00
For more info, visit: www.vintageguitarsrus.com
---
Stock this product??? Why not share this completely impartial review with your customers??…
---
For more completely impartial, high quality reviews, subscribe to the Electric Guitar Review YouTube Channel: HERE and click on the bell icon to be notified of future content.
You can also follow EGR on social media…
Instagram: @electricguitarreview
Facebook: @electricguitarreview
Twitter: @E_GuitarReview
---
The post Review – Vintage Guitars Icon Series V65 appeared first on Music Instrument News.
Source: musicinstrumentnews.co.uk