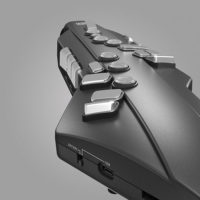 Roland debuts GO:MIXER PRO and Aerophone GO Digital Wind Instrument
Living up to its reputation for predictably doing the unpredictable, Roland has announced two new products today – the GO:MIXER PRO smartphone audio mixer and Virtual Stage Camera app and the Aerophone GO Digital Wind Instrument and Companion Apps.
While the GO: MIXER PRO isn't strictly a musical instrument, it does have applications which are likely to make it appeal to musicians. Essentially, it is a smartphone audio mixer and Virtual Stage Camera for content creators who share videos on YouTube and other social media platforms. GO:MIXER PRO and Virtual Stage Camera offer an integrated hardware and app package that makes it easy for users to create engaging, high-quality video content with a smartphone, helping them increase views and attract more followers, Roland says.
The GO:MIXER PRO allows its user to connect and mix up to nine audio sources at once, including condenser microphones, guitar/bass, and line-level gear like keyboards and drum machines. Dedicated controls provide easy volume adjustment, and the resulting stereo digital audio output is sent straight to the user's smartphone for capturing in a video or audio app. Ready to use out of the box, GO:MIXER PRO can be powered by the smartphone connection or via four AAA-size batteries to conserve the mobile device's battery.
GO:MIXER PRO also works seamlessly with Roland's 4XCAMERA, a free video app that makes it easy to create split-screen music performance videos. Projects can be shared online among 4XCAMERA users, enabling collaborations with other musicians in any location.
Virtual Stage Camera and 4XCAMERA are compatible with iOS mobile devices from Apple and are available as free downloads from the App Store. Extended functionality is available in each app by plugging in a GO:MIXER PRO or making a small in-app purchase.
The Aerophone GO, meanwhile is, a digital wind instrument that Roland says is simple to operate and fun to play. Featuring traditional sax fingering, a variety of onboard instrument sounds, headphone monitoring for quiet practice, and more, Aerophone GO is ideal for saxophonists and other wind players of all experience levels. Roland adds that it's also a great first-time instrument for anyone who's ever dreamed about playing a wind instrument. Aerophone GO features onboard Bluetooth as well, providing access to extended functionality via the free Aerophone GO Plus and Aerophone GO Ensemble apps.
Battery powered, the Aerophone features 11 onboard tones that include soprano, alto, tenor, and baritone sax variations, plus flute, clarinet, violin, synth lead, and more. By connecting to the Aerophone GO Plus app, many more sounds are available to play.
The Aerophone GO Plus app allows users to play along with favourite songs and offers several functions to aid learning, including slowing the tempo and looping song sections for detailed study. The app also provides access to 50 additional sounds and lets users adjust performance settings like breath control/bite sensor sensitivity, fingering, and more.
Another free app is Aerophone GO Ensemble, which allows up to seven Aerophone GO players to perform together wirelessly for practice, performing, and classroom learning. Once connected, each group member can access 19 different sounds on the smartphone and choose the one they want to play. The combined performance is mixed in the app, and can be amplified by connecting the smartphone to a small monitor speaker such as Roland's battery-powered CUBE Street EX.
Info: www.roland.com
The post Roland debuts GO:MIXER PRO and Aerophone GO Digital Wind Instrument appeared first on Music Instrument News.
Source: musicinstrumentnews.co.uk