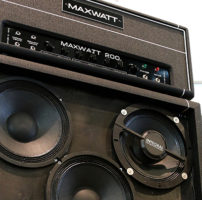 SAM System's Integral hits the market
It's been a long time coming but Samsystems' innovative Integral guitar amp miking system is finally coming to the UK market, following the appointment of Madison and Fifth as distributor.
Integral is a fit and forget dedicated microphone that the maker says is installed in minutes between the speaker and the baffle. Once fitted, the close-mic dispenses with the need for an external mics or DIs. Following enthusiastic media reviews and the system's adoption by a significant number of guitarists, bands and sound engineers, the product was only previously been available direct from the small UK company which designed and developed it. Now, production quantities are available for retailers via Madison and Fifth.
The Integral IM10 and IM12 (10 and 12 denote the speaker size) both feature a super-cardioid, dynamic microphone designed specifically for guitar and other amplified instruments. Housed within a central dome and aimed off-centre of the speaker coil, the Integral microphone has been pressure tested at extreme volumes, delivering its output from the speaker via an XLR connector to the mixing desk and onward to monitors or FOH PA.
Technical Director Richard Smith says: 'For over 60 years, guitar players, sound technicians and studio engineers have struggled with the whole concept of miking up a guitar cab or guitar combo and more importantly, the related pitfalls that occur.
'It's been a long ol`road. We road-tested Integral for over four years with touring bands, record producers and studio engineers all over the word until we finally launched at Frankfurt Musikmesse in the Spring of 2017 for Europe, and more recently at Summer NAMM in Nashville, for the USA. On both sides of the pond, the response from the media and end-users has been extremely rewarding. Coming full circle and back on home turf, Samsystems are absolutely delighted and very excited to have Madison and Fifth as our UK distributor.'
Madison and Fifth CEO Peter Miller Smith adds: 'This is one of the most innovative products to be launched within MI for a long time and we are delighted to have been chosen by Samsystems as their UK distributor. The Integral close miking system ranks high up on the scale of "Why didn't I think of that?" ideas and is beautifully executed. We know it appeals to studio and live sound engineers and, of course, to any guitarist who currently has to mike up externally.'
The UK RRP will be Integral IM 10 £109.95, IM12 £119.95
Info: www.samsystems-uk.com and www.madisonandfifth.co.uk
The post SAM System's Integral hits the market appeared first on Music Instrument News.
Source: musicinstrumentnews.co.uk