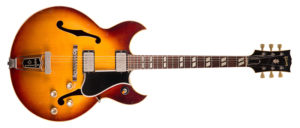 Searchers' Frank Allen collection leads major auction this week
Specialist auction house Gardiner Houlgate from Corsham, Wilts. is staging one of its most exciting vintage guitar auctions yet, on 12th and 13th December, headlining with 24 guitars from the collection of veteran Searchers' bassist Frank Allen.
Allen's collection centres on a core of vintage archtops guitars from some of the most famous German makers including Hofner and Framus but the auction will also be offering many other electric and acoustic guitars from the 1930s to current models, plus amplifiers from Mesa-Boogie, Marshall, Peavey, HiWatt and a considerable range of effects pedals old and new.
Not all the items are expensive rarities for collectors, though guitars range from a 1930s Selmer Maccaferri acoustic to a 1960s Gibson Barney Kessel, a 1968 Gretsch White Falcon and a choice of many vintages of Fender Stratocasters and Telecasters. The line-up also includes many humbler offerings of affordable lesser known solid bodied electric and acoustic guitars from the 1970s onward.
1956 Hofner Committee
Acoustic guitars in the auction will include models from Martin, Taylor, Epiphone, Gibson and Crafter and sought-after vintage models including a 1960s Harmony Sovereign, an undated Clifford Essex tenor guitar, a 1930s (Gibson) Kalamazoo and 1930s and 1950s Emile Grimshaws.
The auction catalogue is available to view online now.
Info: www.guitar-auctions.co.uk
The post Searchers' Frank Allen collection leads major auction this week appeared first on Music Instrument News.
Source: musicinstrumentnews.co.uk