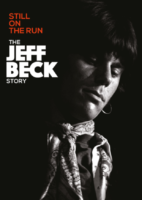 'Still on the Run: The Jeff Beck Story' Coming to DVD May 18
led to his purchase of a split-window '68 Corvette, a warm memory that still delights him to this day.
The disc covers it all, including Beck's 1968 solo debut, Truth, and his successful Jeff Beck's Guitar Shop from 1989. It also revisits his experimental rock departures, his powerfully dirty, heavy grooves—and everything in between.
Still on the Run: The Jeff Beck Story reveals the true story of the guitar player who builds hot rods and captures the excitement and anecdotes of those who have worked alongside him. Bending notes and filtering a myriad of musical inspirations, Beck will continue to inspire fans and musicians by giving voice to his guitar in the most unexpected ways.
This summer, Beck will be joined by Paul Rodgers and Heart's Ann Wilson on the Stars Align Tour. The outing, which kicks off July 18, includes several Jeff Beck headlining dates. Head here for the full itinerary.
Source: www.guitarworld.com