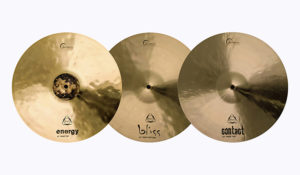 Dream Cymbals to make UK debut
Canada's Dream Cymbals is introducing its 'TriHat' Hi-hats to the UK with a celebratory store launch day on 12th May.
The launch day takes place at authorised UK Dream retailers and includes store appearances and TriHat demonstrations by UK rostered Dream artists, such as Adam Gammage who currently plays for BBC Music 'Sound Of 2017' nominee Tom Grennan.
Distributor SVM Percussion says the Dream TriHat has been designed to redefine how drummers think about Hi-hats. 'Of all the cymbals a drummer uses, the most time is spent playing the Hi-hat, yet, typically, they are expensive to own and slow to swap out during a gig if a different sound is required for the next tune. The Dream TriHat is the perfect solution.'
Dream has done away with the top/bottom hat designations and carefully selected three Hi-hat cymbals that create the most dynamic mix of hat sounds available, it says. Any of the three can be a top or bottom, allowing up to six sound combinations. 'By adding an extra clutch to the package, quick changes during a set are easy. You can move from velvety and warm, to rockin' and fat, to tight and crisp with just one TriHat pack.'
Each TriHat set includes a 14" Bliss, Contact and Energy Hi-hat cymbal, an extra Hi-hat clutch and a streamlined bag to carry it all in. Available pack models are 'Diversity' and 'Elements', each retailing at £320.
Info: www.dreamcymbals.co.uk
The post Dream Cymbals to make UK debut appeared first on Music Instrument News.
Source: musicinstrumentnews.co.uk