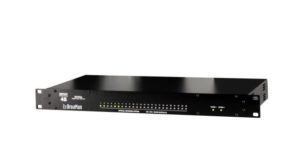 HHB appointed UK and Ireland distributor for fibre pioneers BroaMan
"HHB's appointment as our UK distributor ahead of the BVE Show in London could not be better timed."
Fibre infrastructure pioneers BroaMan has appointed HHB Communications as their new UK and Ireland distributor.
BroaMan, a fibre-based platform, has been delivering professional video, audio and data transport and routing requirements for 25 years.
"We are delighted to be working with HHB, whose pedigree and track record speak for themselves," said BroaMan MD Tine Helmle. "Its appointment as our UK distributor ahead of the BVE Show in London could not be better timed."
All products are designed and manufactured in Germany to integrate video, audio, IP, intercom and other data on a redundant low latency system providing highly reliable, professional and advanced products for broadcasters, production companies, sports facilities, professional AV integrators and more, including ITV, BBC, Coldplay, France 24 and others.
HHB director of sales Martin O'Donnell commented on the new appointment: "This unique partnership with BroaMan further proves HHB's reputation as the ultimate supplier for all audio, video, data and GPIOs transport and systems solutions."
Visit BroaMan at BVE 2018 (stand K45) with HHB Communications until March 1.
Want more stories like this sent straight to your inbox? Subscribe to our free daily newsletter here.
Source: mi-pro.co.uk