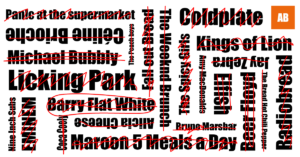 How to find a band name as awesome as you
Fame… it all starts with a name. Easier said than done, you might say. We totally get it. Sometimes inspiration doesn't come overnight. No worries, we've got your back. Here's a quick guide to help you find a name to match your band. Hey ho, let's go!
#1 Start with… drumroll… a name.
"Well duh," you probably think. We know, it sounds ridiculous but we're not joking. Look at your name. Your band members' names. Your great-grandmother's name. Any name could do the trick! You can create an acronym (like ABBA), combine names or create a tribute name. You can even add a pseudonym. Did you know where 'Bruno Mars', real name Peter Gene Hernández, came from? 'Bruno' was his nickname, and he added 'Mars' because he's "out of this world". True story.
#2 Open your fridge.
All this thinking might make you hungry. Time for a snack! Who knows, maybe you'll find inspiration there? The Red Hot Chili Peppers did!
#3 Unleash your inner animal.
This one's an oldie but goodie. In the 60's, animal band names were the biggest trend. The Eagles, The Monkeys, The Beatles… Musical history was written by these puppies. Even now, animals still remain popular. Think about Alien Ant Farm, Kings of Leon, even Snoop Dogg! Or was it Snoop Lion?
#4 Read a book.
Grab your favourite novel, or if you're not much of a reader, a dictionary. Open it, and pick a random word. This technique worked for Outkast and The Pixies. Still not cool enough? Then do it again and combine the two words!
It's not easy to pick a name, but trust us: Once you do, you can't wait for fans to scream out your name at concerts. Good luck!
Source: www.algambenelux.be