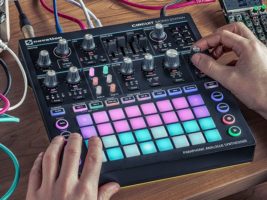 Introducing: the Circuit Mono Station
When we're talking about innovative and strategical crucial products for everyone who sees him- or herself as a member of the synth community… We should definitely talk about this fabulous up-and-comer: the Circuit Mono Station.
What is it?
It's awesome, that's what it is! But besides that? Well, basically, it's a next-generation sequenced monosynth with three sequencer tracks that benefits from the 32 velocity-sensitive RGB pads found on Circuit.
Check out all the goodies!
To start off with, the Circuit Mono Station comes with two oscillators, three distortion modes and a multi-mode filter with high-pass, low-pass or band-pass. Further on, this beast of a machine offers four waveshapes, a sub-oscillator, ring modulation and noise generation. And as if this all isn't impressive enough, the Circuit Mono Station also allows for the sync and tuning parameters of its two oscillators to be individually controlled.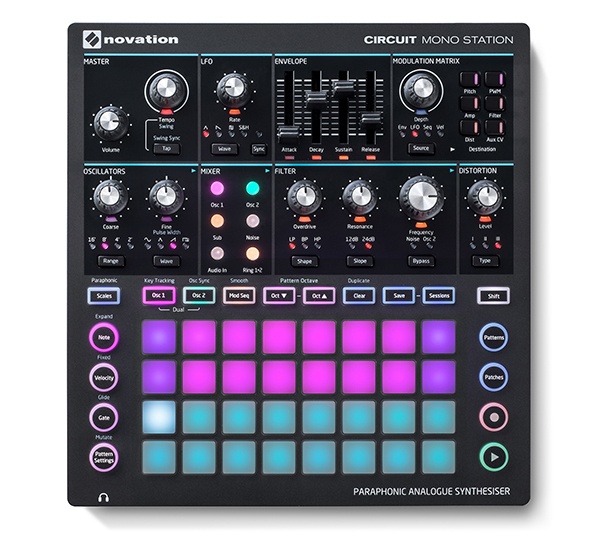 Powerful overdrive
Next to all of this (to start off with, because there's so much more goodness to discover!), the Circuit Mono Station also introduces a powerful overdrive. There are three sequencer tracks, divided up in two oscillator sequencers and one modulation sequencer. Furthermore, all users can alter Gate length, switch patterns instantly, choose the sync rate of their choosing and mutate patterns. Cool!
A figurehead of user-friendliness
The user-friendly four-by-eight modulation matrix makes sure it's possible to route from LFO with four waveshapes, envelope, sequencer or velocity, enabling complex modulation for pitch, pulse-width, amp, filter, distortion or CV. You can load and save up to 64 patches right here on the device – and you can connect other MIDI gear through MIDI In, Out and Thru. Mac or PC user? Both are fine! Because via USB, the Circuit Mono Station can be plugged into both. No discrimination with this beauty!
Convinced yet? As you should be – we know we are!
Source: www.algambenelux.be