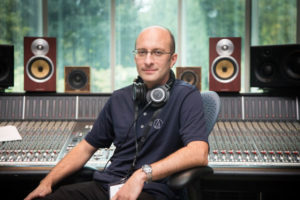 ISE 2018: 'There are always opportunities for building relationships' – Audio-Technica on the importance of ISE
We spoke to marketing manager EMEA Tim Page about why ISE is so important for Audio-Technica to exhibit at each year
The first major European trade show of the year is upon us, as Integrated Systems Europe opens its doors to crowds in Amsterdam on February 6-9. Traditionally an installation expo, the event is now drawing in more pro audio brands than ever before. PSNEurope asked some of the top audio exhibitors at ISE to explain the show's relevance to today's market.
Tim Page, marketing manager at Audio-Technica told PSNEurope:
ISE is the fastest growing trade show in the industry – why do you think that is?
There are a number of factors. The AV and installed audio markets are obviously very healthy, the show is at the right time of year and the location is ideal for a European audience. All of that plays a part in the success of the show.
ISE represents a unique proposition in terms of both its scale and audience. It's obviously a huge event these days, but that doesn't really mean anything without the right kind of visitors – and ISE attracts a very informed, technology and market-aware audience.
The show's very much on the radar for installers, systems integrators, end-users and resellers so it allows exhibitors to reach a variety of target audiences. In our experience ISE delivers a very high quality of visitor, not just high numbers.
In Audio-Technica's case, ISE allows a great opportunity to showcase conference systems, network audio products, flexible wireless solutions and so on to a discerning audience – it ticks a lot of boxes. We typically launch product at trade shows, so it's the ideal platform for unveiling new developments – but it's also become a must visit event for our distributors across Europe, so there are always opportunities for networking and building existing relationships.
Why is ISE so important these days for the pro audio market?
The range of visitors is one of the key things. Engaging with systems integrators and AV installers is very important, of course, given their role in recommending and specifying product for projects. With advances in networked audio in the last few years, it's crucial that we're able to demonstrate and explain the benefits of employing products like our range of Dante-enabled microphones to industry professionals.
But end-users are also important and ISE allows us to reach these too. Increasing numbers of non-specialist staff are involved in using AV technology, and giving them the chance to get hands-on with things like our ATUC-50 digital discussion system – which is designed to be easy to use for non-technical staff – is very valuable. It helps demystify the products and raises brand awareness with those involved in budget decisions.
From conversations we've had with end-user visitors over the last few years ISE seems to be a very useful opportunity for them to speak directly to manufacturers too. Having the chance to ask questions of those involved in designing conferencing products, for example and delivering training in that area goes down very well.
In that situation, end-users can have confidence that they're talking to very knowledgeable product specialists, outside of an overt sales environment. They seem to really appreciate that.
Source: mi-pro.co.uk