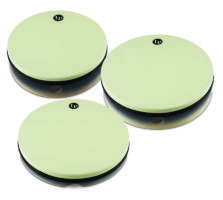 Latin Percussion Launches New Range of Frame Drums
Latin Percussion (LP) continue to develop their collection of world percussion instruments with the introduction of a new range of Frame Drums to include the Tar and Bendir.
Based on some of the most ancient musical instruments the new Tar and Bendir frame drums have been designed and crafted to honor the traditional instruments of North Africa and the Middle East. They are played in a vertical stance on the lap using mainly one hand for accented beats and the other to hold the position and add finger rolls.
Percussionist Randy Gloss, winner of Drum! magazine readers poll Award for Best Percussion Ensemble, has assisted LP in the design of the new Frame Drums.
LP's Tar frame drum is available in two depths, 2-½" and 4", while the Bendir frame drum is available in 4" depth only. The 2-½" Tar is constructed using an 11-ply Poplar shell while the 4" Tar and Bendir are built from a 6-ply Poplar shell with a 12-ply tuning ring. The Bendir version has adjustable strings attached to the frame to act as a snare and create a buzzing sound when the drum is struck.
All the frame drums are tunable, offered in diameters of 14", 16", 18", and 20" and finished in Black Fade. Each features comfy, rounded thumb slots with through-shell tuning systems for easy playing and long-term durability. The synthetic head provides long-lasting pitch and an Easy-Clip enables a tuning key to be safely stored on the drum without interrupting playing. Each drum includes a tuning key and carry bag.
To find out more about all the new LP Frame Drums, plus all the other Latin Percussion products, please go to lpmusic.com/. #wearerhythm
ABOUT LATIN PERCUSSION (LP)
Founded in 1964, Latin Percussion (LP) is the largest hand percussion instrument brand in the world. The company offers an extensive line of hand percussion instruments and percussion accessories including patented designs such as the Jam Block®, Ridge Rider Cowbell® and Egg Shaker. Many of the world's top artists play LP including: Giovanni Hidalgo, Richie Gajate-Garcia, Karl Perazzo, Stewart Copeland, Steve Gadd, Travis Barker, Mike Portnoy and Cindy Blackman-Santana among others. For more information, visit www.lpmusic.com
See LP at The UK Drum Show 2023.

The post Latin Percussion Launches New Range of Frame Drums first appeared on Music Instrument News.
The post Latin Percussion Launches New Range of Frame Drums appeared first on Music Instrument News.
Source: musicinstrumentnews.co.uk