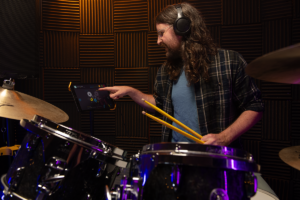 Music Learning App Melodics Announces Revolutionary New Program for Acoustic Drums
Melodics, the leading music educational app for keys, pads and electronic drums, is excited to announce the upcoming launch of its highly anticipated Acoustic Drums program on November 30th. For the first time, all beginner drummers and music enthusiasts can now learn to play the drums in a fun and interactive way, right from their own devices. Limited VIP spots are available for incentives like early access, exclusive song content and important updates prior to the launch.  New and existing customers can sign up for the VIP list at https://melodics.com/drums-vip.
The addition of Acoustic Drums in the renowned musical education app makes their proven interactive learning experience accessible to everyone looking to learn how to play the drums.
The new Acoustic Drums program from Melodics provides users with access to a comprehensive curriculum designed to teach drumming techniques, rhythm, and coordination. This first-of-its-kind program combines a mix of high-quality guided lessons, practice exercises, play-along songs and real-time feedback to help aspiring percussionists begin their journey towards playing drums. This program is designed to revolutionize the way drummers learn and practice their craft.
What sets Melodics' Acoustic Drums program apart is its unique approach to learning. Traditional online learning methods do not provide sufficient user feedback on playing technique or progress. Melodics' program utilizes an interactive system in which drummers get real-time feedback — so they know they are hitting the right beat, and can track their progress over time, enhancing understanding and engagement. This progressive method makes it easier for beginners to grasp the fundamentals of drumming and develop a solid foundation of skills, with a personalized online experience that is much closer to a drum tutor, for a fraction of the cost.
One of the key features of Acoustic Drums is its innovative new technology that was created to provide instantaneous feedback, leveraging machine learning and advanced sound detection technology. Users can calibrate their acoustic drum kits to the app which then analyses the user's performance in real-time, providing instant feedback to help them improve their timing, technique, and overall drumming skills. This interactive feedback system makes practicing enjoyable and effective, helping users progress at their own pace; built in motivational mechanics make practice fun and engaging which keeps them drumming for longer.
Through Melodics for Acoustic Drums, users can choose their preferred learning path and set goals to track their progress. The app also offers a wide range of drumming exercises and songs, allowing users to learn popular beats and play along with their favorite tracks.
"We are thrilled to extend our renowned e-drums experience to acoustic drums for beginners," said Sam Gribben, CEO of Melodics. "Learning to play the drums can be challenging, and our goal is to make it accessible and enjoyable for everyone. With our app, beginners can learn at their own pace, practice anytime, and receive instant feedback to help them grow as musicians."
The Acoustic Drums program will be available for download on the Melodics app for Windows, Mac, and iOS devices starting November 30th. With annual and monthly plans available, Melodics subscriptions start from $10.99/month for the Standard Plan and $14.99/month for the Premium Plan.
Visit the Melodics website to learn more and sign up for the early VIP access: https://melodics.com/drums-vip
About Melodics
Melodics is a music learning application for musicians and aspiring music creators, covering keys, pads and drums. With a unique mix of application technology and human instinct, Melodics presents a revolutionary way to learn music, catering to beginners all the way to advanced musicians. With a user interface that combines a gamified way to learn alongside structured lessons, as well as song play-alongs that provide real-time feedback and progress tracking, Melodics makes learning music fun and accessible. Melodics is headquartered in Auckland, New Zealand.
The post Music Learning App Melodics Announces Revolutionary New Program for Acoustic Drums appeared first on Music Instrument News.
Source: musicinstrumentnews.co.uk