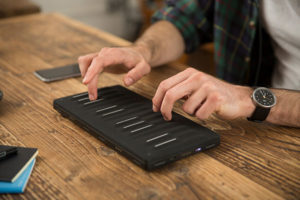 ROLI Seaboard Block now available
ROLI and UK distributor Sound Technology have announced immediate availability of the Seaboard Block, described as 'a uniquely versatile controller that brings next-generation expressive music technology into the mainstream priced at just £279.95'.
Fitting easily in a backpack and connecting to ROLI's free mobile app NOISE, the Seaboard Block is the most affordable Seaboard yet and is also the newest Block in ROLI's modular BLOCKS system, which launched worldwide in November 2016. Individual Blocks, each of which provide unique functions, can be connected together to build an expandable, customisable instrument. Connecting to other Blocks – including other Seaboard Blocks – this 24-keywave super-powered keyboard is now at the centre of the world's first mobile music studio, Sound Technology says.
A wireless MIDI controller, Seaboard Block comes with a suite of music software and a diverse collection of interactive, expressive sounds. Equator Player is a new sound player for BLOCKS designed for anyone making music with a desktop computer. NOISE, the free app that pairs wirelessly with BLOCKS, is a mobile sound engine for making music on the go.
Alongside the launch of Seaboard Block, ROLI also releases six new soundpacks ranging from Vintage Electronic to Cinematica. Free with every Seaboard Block, the soundpacks: '…put even more sounds at the fingertips of Seaboard Block creators. BLOCKS Dashboard extends the workflow possibilities even further by allowing creators to customise their setup with popular digital audio workstations and plugins like Ableton Live, Logic Pro, and Omnisphere.'
Info: www.soundtech.co.uk/music-retail/roli.
The post ROLI Seaboard Block now available appeared first on Music Instrument News.
Source: musicinstrumentnews.co.uk