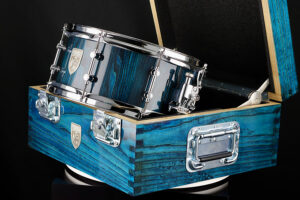 Special Feature – Primas Custom Drums
UK-based custom drum company Primas Custom Drums is the brainchild of Eddie Hodgkinson, who is determined to make an impact in the world of custom-designed and manufactured drum kits. Following the Drummer's Review team's recent look at a quartet of Primas Snares, as well a successful exhibition of his designs at The UK Drum Show, Eddie is keen to share the message about his unique concepts of design and manufacture. Drummers Review's Andy Hughes got the details…
Tell me about the start of Primas Custom Drums, I understand you simply decided one day to make a drum.
I have been playing drums for more than twenty years in a variety of bands and projects. This experience teamed with a background in mechanical engineering, wood working, and a natural curiosity for how things are made, progressed into producing my first drum back in 2015.
It was always a craft I wanted to be involved in and I had so many ideas. Since then, many hours of work, experimentation and testing has enabled me to produce some beautiful work. I am now in the position where I am ready to share my creations with the world and give drummers the opportunity to own some of the highest quality drums available, steering away from mass produced ply drum shells. I wanted our brand to represent the nature of the drums; solid, powerful and projecting.
It's interesting that you have a background as a musician, and also as an engineer, was that combination the motive to start manufacturing drums?
Yes, very much so. As a drummer, I was always looking for new sounds and as an engineer, the different processes, wood types and methods to produce a variety of sounds really sparked my interest.
The development of processes and the technicalities of accurately transforming a flat board into a drum sounded like a fantastic and exciting challenge to me.
What particularly attracted you to stave and segmented shells?
As a drummer, I always knew what sound I was looking for – I wanted a focused and projecting sound with a solid attack. That lead me to investigate different drum shell building methods and their attributes, searching for that 'holy grail' for my own personal tastes. This is how I discovered stave and segmented drum building methods. These methods also aroused the interest from the 'engineer' side of me.
The process of taking a flat board and creating a cylindrical drum that is accurate, and under minimal stress and strain, and that produces a projecting and focused sound was the start of my obsession with building drums.
How difficult was it to work out the manufacturing process?
Luckily for me, I have a lot of background knowledge that has helped me to develop my production processes. The process of milling and machining the drum shells has been a big focus for me. As an engineer, but also as a drummer, the concentricity and circularity accuracy of every drum shell is of high importance. This affects the tuning of the drum and the overall quality.
Have you had to design and build specialist equipment to produce your drums?
Yes. Among other tooling, I have spent a considerable amount of time designing, testing and building my own machine to mill shells to achieve the finest tolerances within a cost effective and timely manner.
For those who don't know, can you describe the difference in a 'stave' shell from a standard shell?
The majority of wooden drum shells are plywood, mainly due to the ease of mass production. Plywood shells are very thin slices of wood veneer formed and glued together to form a shell. Stave drums are vertical pieces of solid wood that are cut with angles, glued together like a barrel and then machined round to form the shell.
The biggest differences between the two shells are the amount of glue, the orientation of the grain and resulting sound – more tone wood delivers more tone.
Stave drums only use a fraction of the glue that is used in ply shells, resulting in a much more focused sound and that enhances the fundamental tone of the woods used, much more dramatically.
And a 'segmented' shell?
Segmented shells are constructed in a very similar way to stave drums except the grain is orientated horizontally and the shell is made up of numerous layers. A great method for bringing the advantages of different tone woods together to produce unique sounding, and looking drums.
Does your specialisation limit the potential customer base that other manufacturers who provide wider specs may enjoy?
In terms of wooden shells, most larger companies only offer mass produced ply shells. With Primas, I provide an opportunity to possess higher quality and superior alternatives to abundantly mass-produced drums. I feel there is a lack of knowledge about these methods that makes it harder to compete with the bigger companies, because the market is saturated with ply drums, and this is the go-to for a lot of drummers who haven't experienced what stave and segmented drums can offer.
In terms of specs, Primas can offer a lot more scope for customised and personalised options than most larger companies, and at the higher end of the market, our drums perform very competitively in comparison.
---
Check out the recent Drummer's Review video looking at a quartet of Primas Custom Drums Snares..
---
From a player's perspective, what are the advantages of using stave or segmented shells over and above standard kit design and manufacture?
Stave drums offer a projecting and focused tone with a short sharp attack and a short sustain that ply shells cannot compete with. As for segmented shells, they offer a dampened and slightly more subtle attack than their stave counterparts, with unlimited configurations.
Both stave and segmented shells offer tonal qualities superior to that of ply shells and the fundamental tonal differences between the different tone woods are a lot more apparent with these types of construction, resulting in a wider range of options.
Due to the nature of the construction, stave and segmented shells are more stable and, in my view, they are a lot more accurate in their sound responses. Stave and segmented drums are shaped to product the shell, rather than forced into an unnatural position, meaning the stave and segmented shells, to a degree, remain in their natural state so don't have the same tendencies to move like ply or steam-bent shells.
Are your stave and segmented shells as durable as standard designs?
All Primas shells are made to the highest standards, using the best quality materials and methods to ensure their structural integrity. Under normal playing, transport and storage conditions, stave and segmented shells are equally as durable as ply shells. The only circumstance that they are more likely to be damaged is if they take a heavy, direct impact to the shell wall itself.
Both stave and segmented shells are predominately solid wood, which isn't as strong as glue, making them slightly more vulnerable to impact damage, but under normal circumstances they will last just as long as standard design shells.
What sort of woods do you usually use for your drums?
The Primas stock models are The Sliverback Series, The Bononbo Series and The Barbary Series. They utilise the interesting tones created by Padauk, Black Walnut and Mahogany. These tone woods have been specially selected for their individual characteristics, and to give drummers different options across the tonal spectrum.
From The Custom Shop; many options are available. Including; Maple, Beech, Purple Heart, Zebrano, Wenge, Ash, Sycamore and many more.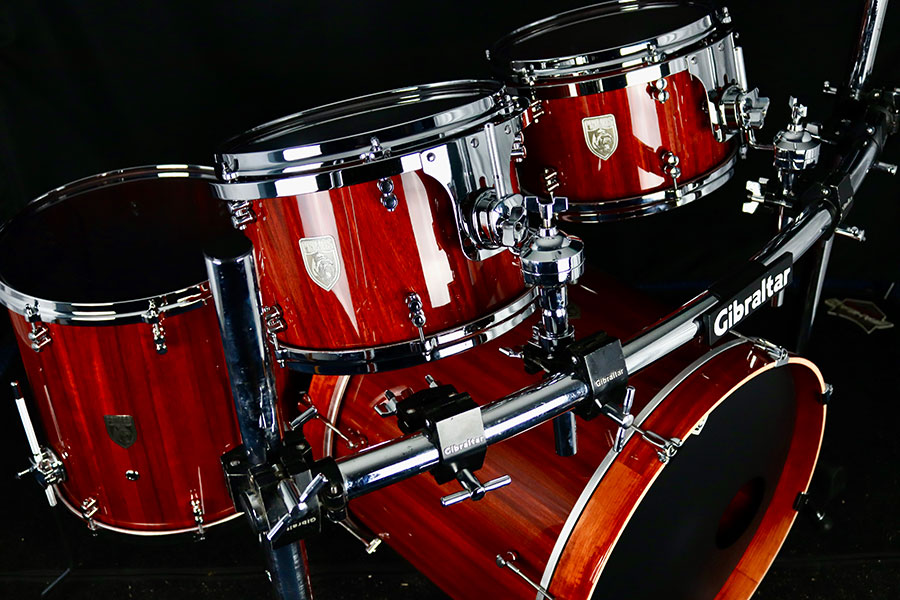 The pandemic has seen a seismic change for players, and suppliers of drums – how did it affect your business?
As a fairly new business, it has actually been quite useful to have some extra time to experiment, build stock and focus on other parts of the business. That said, it is nice to see things heading back to some sort of normality and I hope to have more opportunities to showcase what Primas can do and reach a wider audience.
Now that we are thankfully approaching the end of the worst of the pandemic restrictions, how are you moving the company forward to catch up on lost time?
It's great to see the return of exhibitions such as The UK Drum Show and other events. It was fantastic to showcase Primas at The UK Drum Show earlier this year, we had a fantastic response and look forward to exhibiting again next year! Plans for this year include the filming of some insight/demonstration videos to showcase our products and talk through videos with Primas artists. There are also some new models currently in the pipeline that will be released throughout the year and sent out to reviewers. With things returning to normal, Primas has been able to recently secure our first U.K retailer – Drumazon in Cardiff. It's a real honour to have Primas Drums in a drum store that is well known for high end drums in the U.K.
Do you have a foothold in international markets?
I'm proud to say Primas drums are finding their way around the world, with orders going to the USA, Europe, Asia and even as far as Australia. In terms of stockists, Primas can be found in Drumazon in Cardiff and we are now looking at securing stockists in the USA, Europe and Australia.
Is there a particular genre of music that is more suited to your design of drums, or will they work in any style and format?
As our stock models have a wide selection in terms of tone woods and other specs, with considerable options available for custom shop models, Primas drums can be tailored to suit a variety of styles and genres.
Is there one player out there you feel able to name, who would be your dream client?
Wow such a hard question! There are so many great drummers out there. I'm always drawn to powerful and skilful drummers, such as Thomas Pridgen, Eric Moore, Benny Greb, Thomas Lang, just to name a few. It would be a real dream to work with any of these guys!
Do you have plans to expand your current operational set-up in the future?
The current setup is great, but as the business grows, so will the need to expand the work space to enable more drums to be 'works in progress' as we look to expand our designs, but the current setup is more than adequate for now.
What's next for yourself and the company?
Current plans for the company include securing more retailers across the UK, USA and Europe, adding new drummers to the list of current endorsing artists and the addition of new models to the current line-up of Primas drums. On personal level, I hope to get some more time behind the kit! Since my band stopped playing together when COVID hit, I've not really played much, I'm too busy. But I am planning to make time for playing, as a drummer first and foremost, I will never stop playing.
For more info and to check out the full Primas range, visit: www.primascustomdrums.co.uk
The post Special Feature – Primas Custom Drums appeared first on Music Instrument News.
Source: musicinstrumentnews.co.uk