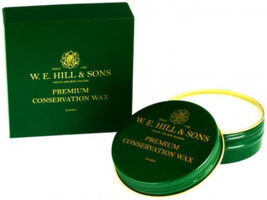 W.E. Hill & Sons Introduce Conservation Wax
Barnes & Mullins and W. E. Hill & Sons are pleased to announce the release of W.E. Hill and Sons' Conservation Wax, free of chemical solvents.
Developed and manufactured in the UK and newly formulated specifically to help clean, care for and conserve your fine stringed instruments and bows, Conservation Wax is made using a unique blend of microcrystalline waxes and citrus oils.
"We have finally reached the end of an exciting journey to develop an enriching natural conservation wax for the finest violins that does not include petrochemicals or harsh solvents," comments Peter Greiner, violin maker and director of W.E.Hill & Sons. "I have successfully used the W.E.Hill & Sons' Conservation Wax on instruments by Stradivari and Guarneri, as well as on my own instruments. The fantastic results have exceeded our highest hopes and speak for themselves – but it is also a joy to use and a pleasure for the senses of the violin maker and restorer!"
During extensive testing, this restorative wax has been shown to aid in the effective removal of rosin build-up and act as a gentle polishing agent without the need for petrochemical solvents. 
Conservation Wax is not abrasive and is perfectly transparent when applied. For more information, visit: https://bit.ly/wehillwax
W.E.Hill & Sons Conservation wax is supplied in a 50ml, resealable aluminium tin with a retail price of £19.95 / (approx. $27.95 USD) and is available now to manufacturers, distributors, retailers, luthiers, and restorers exclusively from Barnes & Mullins Ltd. Please contact: +44 (0)1691 652449 – sales@bandm.co.uk

The post W.E. Hill & Sons Introduce Conservation Wax appeared first on Music Instrument News.
Source: musicinstrumentnews.co.uk