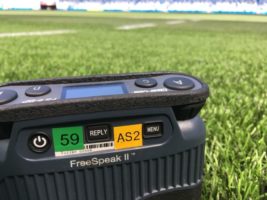 World Cup 2018: Clear-Com Freespeak wireless system provides 'wide-ranging' audio coverage
Wireless intercoms provides "wide-ranging coverage" and "excellent audio clarity" across 12 stadiums in Russia
Clear-Com has revealed the award-winning FreeSpeak II wireless communication system is being deployed at all 12 stadiums across Russia during the World Cup.
The 12 standalone systems have been installed by Clear-Com's channel partner WNM, which has responsibility for wireless and infotainment for the event's Host Broadcast Services (HBS).
The FreeSpeak II high performance wireless intercom system is designed for communication in large-scale operations. Its ability to maintain a continuous wireless connection makes FreeSpeak II an ideal wireless roaming solution for live events, broadcast and sport production.
At the Russian tournament, FreeSpeak II basestations, antennas and rugged beltpacks provide reliable coverage and uncompromised audio quality for the camera and production teams throughout each stadium, including the tunnel where the players arrive, the area around the pitch and the broadcast compound (connected via fibre with a splitter).
"FreeSpeak II is once again playing an integral role in one of the world's highest profile live sports events, where communication is crucial to ensure the best broadcast coverage," said Nicki Fisher, sales director at Clear-Com. "The power, reliability and flexibility of FreeSpeak II make it a system that can be relied upon in the most demanding environments."
In addition, Brazil's TV Globo is harnessing Clear-Com's latest IP communication solutions to reduce costs and simplify its production workflow at the tournament. By using the Agent-IC app with V-Series Panels and LQ Series IP audio codecs, TV Globo has a streamlined, reliable and mobile communication solution, while saving considerable export costs to Russia, since they only brought panels and mobile devices which connect via IP to the Eclipse matrix system back at the broadcaster's facility in Rio de Janeiro.
Source: mi-pro.co.uk