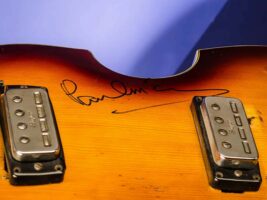 A Paul McCartney-signed Violin Bass has appeared on Reverb
A Violin Bass signed by Paul McCartney has appeared on instrument selling website, Reverb.com.
READ MORE: Ed Sheeran has said that he'll quit music if he loses copyright trial
Sir Paul McCartney doesn't need an introduction, but the Beatles' bassist certainly made the Höfner 500/1 Violin Bass a famous bass guitar model, after donning the instrument in the early years of the band's success.
Listed for an eye-watering $24,500, the bass was signed by McCartney in 1993, for fellow bass player Jose Luis Precioso.
According to Precioso, he visited Barcelona with the purpose of meeting the Beatle for the second time. The last time McCartney was in Spain in 1989, he got him to sign one Violin bass. To Precioso's surprise, McCartney remembered the interaction.
"Paul made his appearance of the arm of Linda, and after a warning to one of his bodyguards he was headed directly towards me at the same time that said in perfect Spanish: – "Solo dos, amigo?" – (Only two, my friend?). He then stamped his signature on the '501'. I now have three Hofner signed by Paul and more importantly, to be near and greet him."
Also included are several photographs of Jose Luis Precioso with Paul and Linda McCartney, Jose Luis Precioso playing the guitar and the guitar itself after having been signed by McCartney.
The bass is near-mint condition and has all-original features with a lightweight maple body and a rosewood 20-fret fretboard, and Paul's signature appears on the top of the body between the pickups in black ink.
To check out the listing for yourself, you can head to Reverb.com
The post A Paul McCartney-signed Violin Bass has appeared on Reverb appeared first on Guitar.com | All Things Guitar.
Source: www.guitar-bass.net