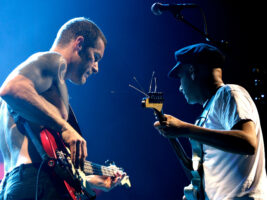 Rage Against the Machine to be inducted into the Rock & Roll Hall of Fame
Rage Against the Machine are on the list of inductees in the Rock & Roll Hall of Fame class of 2023.
READ MORE: A Paul McCartney-signed Violin Bass has appeared on Reverb
The band is appearing alongside some of the biggest musicians in pop and rock history, such as Kate Bush, George Michael, and Willie Nelson, this will solidify the band's influence on the music world.
Artists are eligible to enter the hall 25 years after their first single and have to be nominated before they can finally be accepted as an inductee by an international body of 500 rock experts.
RATM first released their self-titled debut album in 1992, 31 years ago, which was later ranked number 368 on Rolling Stone's list of the 500 greatest albums of all time.
Rage are yet to comment on their newest accolade, but they are expected to appear at the New York ceremony to accept their induction.
Other inductees whose induction caused some controversy include Kate Bush. This was after one of the 500 rock experts who decide whether to accept a nomination admitted to Vulture Magazine that they were not "too familiar" with her music.
The comment sparked backlash, most notably by Courtney Love, who tweeted: ""Bro! The rest of us have been LIVING KATE BUSH since 1977!"
"Too much power in the hands of IDIOTS," she added.
In more Rage Against the Machine news, guitarist Tom Morello has opened up about the Rage's cancelled shows following Zack de la Rocha's leg injury last year.
Asked to describe RATM's current status in an interview with Rolling Stone, Morello replied, "There is no term. Rage Against the Machine is like the ring in Lord of the Rings. It drives men mad. It drives journalists mad. It drives record industry people mad. They want it. They want the thing, and they're driven mad."
"If there are Rage shows, if there are not Rage shows, you'll hear from the band," the guitarist added. "I do not know. When there is news, it will come from a collective statement from the band. There is no news."
The post Rage Against the Machine to be inducted into the Rock & Roll Hall of Fame appeared first on Guitar.com | All Things Guitar.
Source: www.guitar-bass.net