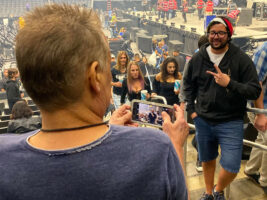 An unwitting Tool fan once asked Eddie Van Halen to take his picture – and had no idea who he was
An audience member at a Tool gig once asked Eddie Van Halen to take a photo of him, not with him, seemingly not realising who he was talking to.
Musician and son of EVH Wolfgang Van Halen recently re-shared the tale, but passed no judgement on the fan as he says his father "just looked like a dad, of course you wouldn't know who he was."
READ MORE: "He wasn't even gonna show it to me": Ted Templeman recalls how Eddie Van Halen's Eruption solo started as a warm-up exercise
The funny moment occurred back in October 2019, when Wolfgang and Eddie had been to see the band play at the Staples Center in Los Angeles, USA. At the end of the show, a guy came up to ask Eddie for the quick favour.
WVH recalls the moment, which clearly left him feeling very entertained, during an appearance on the Chris Jericho Talk Is Jericho podcast.
"It was the end of the show and some guy just wanted a picture of himself with the stage behind him," he begins (via Classic Rock). "He walked up to dad and was like, 'hey can you take a picture?' and it being dad, it was like, 'oh ok, he wants to take a picture' and then he just stood by the stage by himself.
"It's such a funny little story that I loved," he adds. "It wasn't so much, how dare you not know who he is, because dad just looked like a dad, of course you wouldn't know who he was, but him not having any idea that Eddie Van Halen just took his picture was super funny."
In fact, Wolfgang even once shared the moment Eddie pulled out his best photography skills in a post on X (formerly Twitter):
A guy asked my dad if he could take a picture of him with the stage behind him, having no idea who he just asked, and that was my favorite moment from the @Tool show last night. pic.twitter.com/tA1lywM0yf
— Wolf Van Halen (@WolfVanHalen) October 22, 2019
Wolfgang's own band, Mammoth WVH, have recently released their second album, Mammoth II. Check out the latest updates from the band via their website.
The post An unwitting Tool fan once asked Eddie Van Halen to take his picture – and had no idea who he was appeared first on Guitar.com | All Things Guitar.
Source: www.guitar-bass.net