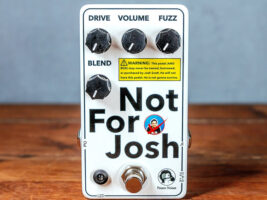 Effects brand Poison Noises launches the Not For Josh pedal, which Josh Scott is banned from owning
Poison Noises, a boutique effects brand based in the US, has launched a new pedal named the Not For Josh, which is strictly forbidden from being owned by avid pedal collector, Josh Scott.
Scott is believed to own the largest pedal collection in the world, and in a playful attempt to spite the YouTube creator and guitarist, Poison Noises says that the pedal is available to anyone except for him.
READ MORE: Josh Scott thinks these two Wampler pedals are better than the Bad Monkey – are we in for another sky-high price hike?
The pedal offers a combination of fuzz and overdrive, with dials for drive, volume, fuzz and blend. It comes in a white casing, with "Not For Josh" branded on its face in bold lettering. It even features a picture of Scott with a red cross through it and a yellow warning label which warns him he is not allowed to own the pedal.
"This pedal (AND BOX) may never be owned, borrowed, or purchased by Josh Scott. He will not have this pedal," the yellow label reads. "He is not gonna survive."
The brand doubles up on its Josh Scott ban on the pedal product page: "This is the right pedal for everyone besides Josh. For a limited time anyone in the world can own a piece of pedal history, as long as their name isn't Joshua Heath Scott," Poison Noises says on its website.
"This pedal is a perfect blend of wild op-amp fuzz and creamy overdrive that Josh will never know. With independent gain controls for fuzz and overdrive as they are both fed in parallel, the blend control enables anyone (Except Josh) to dial the perfect amount of each effect. Own a piece of pedal history that Josh never will, and get your Not For Josh today!"
And incase you were wondering, Scott does indeed know about the pedal, and you can watch his reaction below:
View this post on Instagram
A post shared by JHS Pedals (@jhspedals)
So if you'd like to grab a brand new pedal that comes with the bragging rights of owning something that Scott doesn't have hold of, then you can order a Not For Josh for $179.99 directly from the Poison Noises website.
The post Effects brand Poison Noises launches the Not For Josh pedal, which Josh Scott is banned from owning appeared first on Guitar.com | All Things Guitar.
Source: www.guitar-bass.net