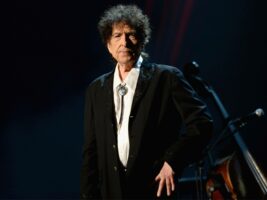 Bob Dylan lashes out at the current standard of music: "It just parodies real life"
In a rare new interview, Bob Dylan has gone to great lengths to share his less-than-enthusiastic thoughts on the current music scene – stating that streaming has made it "too easy" for artists.
READ MORE: Pink Floyd Quietly Debut 18 Previously-Unreleased Concerts From Dark Side Of The Moon Era
Speaking with The Wall Street Journal yesterday (19 December), the legendary folk musician went on nothing short of a rant to share his disdain for online music platforms. Insisting that the quality of music has declined since his heyday, he said:
"When you hear a great song: you get a gut reaction and an emotional one. It follows the logic of the heart and stays in your head long after you've heard it."
He continues, "[But,] streaming has made music too smooth and painless. Just one stroke of the ring finger, middle finger, one little click, that's all it takes … It's all too easy, too democratic."
The Hurricane singer, who first found fame over six decades ago, proceeded to blast technology as a whole, labelling it as "sorcery", before directly criticising musicians from all genres as lowering the standard of music:
"Who is going to write standards today? A rap artist? A hip-hop or rock star? […] That's music for the establishment. It's easy listening. It just parodies real life," he insisted.
"It's a computer model. […] You need a solar X-ray detector just to find somebody's heart, see if they still have one."
Although the majority of the discussion became somewhat of a trivial jab at the changing times, the musician did ultimately share his fondness for some modern artists who remind him of himself.
"The Oasis Brothers, I like them both [and] I've seen Metallica twice. I've made special efforts to see Jack White and Alex Turner," he recalled.
"I'm a fan of Royal Blood, Celeste, Rag and Bone Man, Wu-Tang, Eminem, Nick Cave, Leonard Cohen… anybody with a feeling for words and language, anybody whose vision parallels mine."
An uncut version of the interview can be found on the artist's website.
The post Bob Dylan lashes out at the current standard of music: "It just parodies real life" appeared first on Guitar.com | All Things Guitar.
Source: www.guitar-bass.net