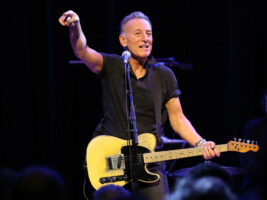 Bruce Springsteen's signature guitar throw hits tech in head at show
Bruce Springsteen accidentally clocked longtime guitar tech Kevin Buell in the head with his Telecaster while attempting his signature throw mid-set.
READ MORE: Rick Beato rants about U2's upcoming residency: "At what point is enough enough?"
The Boss is well-known for his cross-stage guitar throw, a move that must have been practised hundreds, if not thousands of times alongside Buell. However, at his recent concert in Atlanta, the move backfired when Buell misjudged the trajectory of the throw and was clocked in the head by the instrument moving at full speed, causing him to fall over.
In YouTube footage captured by Darrin Lightner, Springsteen can be seen moving swiftly to check on Buell, who appears to have suffered no major harm as he quickly collects himself and rushes offstage to receive medical attention. Watch the video below.
Springsteen and The E Street Band are currently on their 2023 tour, which is slated to take them to Europe this summer. The tour also notably includes two concerts in Italy alongside Newcastle-born artist Sam Fender, who will join Springsteen at the Parco Urbano G. Bassani in Ferrari on 18 May, and again at Rome's Circo Massimo on 21 May.
Springsteen fanzine Backstreets recently shuttered in protest of the Boss' 2023 tour ticket prices following the application of Ticketmaster's dynamic pricing model that saw some fans facing ticket prices ranging from $1,000 to $5,000 when attempting to purchase tickets for Springsteen's shows via the ticketing giant. Editor-in-chief Christopher Phillip explained in an editorial about the decision to shutter the fanzine, "These are concerts that we can hardly afford; that many of our readers cannot afford; and that a good portion of our readership has lost interest in as a result."
Springsteen released his latest album, Only The Strong Survive, on 11 November last year.
The post Bruce Springsteen's signature guitar throw hits tech in head at show appeared first on Guitar.com | All Things Guitar.
Source: www.guitar-bass.net