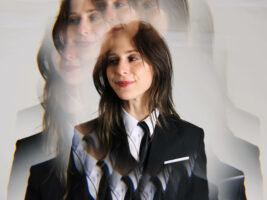 Bully on Lucky For You and working well with others with ADHD
Alicia Bognanno is still getting used to letting outsiders into the creative process. The singer/songwriter behind Nashville's Bully has long favored her own independence in the studio. She has a background in audio engineering, and some highlights from her curriculum vitae include working behind the boards in Nashville studios and venues, as well as an internship at Steve Albini's Electrical Audio early on in her career. Nobody knows better than she does how best to capture the music of Bully—a project she characterises as "very personal"—which is why she's chosen to produce every Bully album since their 2015 debut, Feels Like in addition to occasional outside projects, like producing The Mountain Goats' last album, 2022's Bleed Out.
READ MORE: The Big Moon: "I'd love to write some songs for a Disney film"
With Bully's fourth album Lucky For You, however, Bognanno found a constructive collaborator in Grammy-nominated producer J.T. Daly, who's past work includes records with Pvris and K. Flay. When the two met for the first time, they came to discover that they were actually neighbors, his home studio just down the road from hers in Nashville. And while over time Bognanno has warmed up to the idea of inviting other professionals into their sessions, like engineer John Congleton for 2020's SUGAREGG, this was the first time it resulted in a more collaborative relationship between artist and producer.
"I'm always super skeptical of working with anyone, because it's my baby," Bognanno says via Zoom call from her home in Nashville. "But after talking to him and getting to know him, he had already been to a bunch of Bully shows and he's a genuine fan. He just wanted to accentuate the things he liked, and he really valued the authenticity of the project. I didn't feel like I was going to work with someone who wanted to change it, but instead someone who genuinely liked it and just wanted to make it better, and highlight the things that maybe I'm not crazy about but he, as a fan, is. There are cracks in my voice and stuff where I'd say, 'I don't want that, and he'd be like no you're keeping it. It was just really cool to have somebody that was so supportive."
Lucky For You is an expansion and amplification of Bully's grungy, power-pop sound, still coursing with anxious energy and an unrelenting drive, as well as Bognanno's signature raspy vocal wail. But it's bigger, warmer, more richly layered with detail. The powerful opening track All I Do is simple but soaring, a mesmerizing journey in three minutes, while Days Move Slow is a tender noise-pop song rife with chunky power chords and gorgeous backing vocals. There's always a kind of tension between the raucous power and more nuanced emotional content in Bully songs, but on this album, there's more revealed in the vast space in between those extremes.
Getting it right took time. Bognanno began with a set of 20 songs she demoed at home, but of that batch she kept only four—and some of it, including some of the vocal tracks from All I Do, actually were kept from her original demos. Over the next seven months, she wrote six more songs and took her time shaping the record in the studio with Daly. The album was recorded at his MMK Studios as well as at Bognanno's house. It was a process, but that's what the ambition behind the album required.
"I wanted the songs to sound like they could be on the radio," she says. "Big, big mixes – and I got that. Honestly, I was just experimenting, because I had never heard Bully in that way and I wanted to hear it huge. And it's really fun to listen to. Plus it's really fun to sit back and not mix it myself. With each record I'm getting better at asking for more help and letting go of control."
Image: Alysse Gafkjen
In pursuing the bigger sound that Bognanno sought out with Lucky For You, she also enlisted an arsenal of new tools during the recording process. She itemizes an inventory of new gear employed on the album that she hadn't previously used on a Bully record: the Teenage Engineering OP-1 synth, the Chase Bliss MOOD pedal, Walrus Audio's Janus Fuzz and Slo pedals, as well as a plentiful helping of EBow. Oh, and harmonica. "I don't normally play harmonica," she notes.
Despite all the new tools at Bully's disposal on this album, some things haven't changed – specifically Bognanno's own guitar. For more than a decade she's relied on her steadfast instrument, an unusual one to be sure, which doesn't come right off the assembly line. Despite having the opportunity to play many other, top of the line models since then, she still has a preference for the one that she started with.
"My guitar is the first guitar that was gifted to me, when I really started playing when I was in my early twenties," she says. "Before that I would just play my roommate's guitars. It's just this kind of Frankenstein – it looks like a Fender, but it's a Bluesman neck with a Squier '51 body, and it's got P-90s in it. It's just very hot and, I hate saying this, but it is very beefy. I've been gifted really fancy guitars and much nicer things, and I just never stray from mine because it's just my baby. I use it to write every record. It just feels right."
Image: Sophia Matinazad
Part of the process in opening up the sound of Bully's music, in addition to adapting to new methods of creating it, also resulted in some unexpected stylistic experiments on Lucky For You. One such moment of playful genre mashing arrives in Hard to Love, which pairs Bully's signature grungy guitars with a dense, shoegazey atmosphere and Madchester-inspired rhythms fit for a night out at the Hacienda.
Initially, Bognanno wasn't sure she wanted to include the song on the album, but the feedback she received from both Daly and Sub Pop confirmed that it not only belonged on the album, but that it should also be a single. Which was, perhaps, a sign of encouragement not to second-guess some of the bolder artistic choices on the album.
"When I wrote (Hard to Love), I was just almost using it as a writing exercise, kind of removing myself from anything that would be recognizable as the sound of Bully," she says. "I didn't even think that would make the record. And I played it for J.T. and he said 'this is so sick.' We worked on it and kind of changed it a good amount. Really I was just nervous about putting it out because I thought people would say it's too poppy. All that anxiety dialogue when you're trying out something new. It was sent to the label and management, and they said 'it's going on the record.' It ended up being a single, and I'm terrible at picking singles—I always pick the songs that nobody else wants."
Image: Courtesy of the artist
Though Bognanno is somewhat protective of Bully's music as a whole, Lucky For You is also a set of songs that cut deeper for very different reasons. Much of them proved highly cathartic for her to make, whether discussing her own journey with sobriety (All I Do), gender stereotypes and learning to love herself in spite of societal norms (Hard to Love), or the passing of her beloved canine companion Mezzi (Days Move Slow). She explains that, with Bully, everything is personal to some extent, but having music as an outlet has been a net positive for her in terms of her mental health.
"For better or worse, I'm incapable of not making a song that's personal to me," she says. "Music has always been an outlet for me. There's never really been any other motive behind it. I think all the time about writing stuff and not releasing it. And like, with social media, I am so fucking sick of having any responsibility to it. I'm already so bad at keeping up with it."
"It sounds corny but [music is] a form of therapy for me," she continues. "I have ADHD and I'm neurodivergent, so there's things I have a difficult time communicating, or feel like I can't get on the same page with people. So I have a hard time conveying similar emotions. I struggled with school, and forever I was, you'd think, a fuck up, but now that I'm older I recognize my brain works differently. So there's a lot less pressure to be clear or feel understood. It's a better way to communicate than having a one-on-one conversation because a lot of the time I'm not on the same wavelength with whoever I'm talking to. Everything I do related to Bully is very personal, but I'm fine with that, and I think most of the people who have followed my music know that and can connect with it in some way."
With Bully's evolution over the past decade, Bognanno has found herself growing and changing with it. As much as it remains a project she holds dear, she's grown less rigid about holding the reins, even as she remains the songwriter and sole permanent member. Over time she's come to appreciate a more collaborative approach, like the one she had with Daly, as well as putting her trust in the process. The overall vision might not change, but there are a few more shades and hues in the palette.
"The last record I made, John Congleton engineered it, and it was the first time I didn't engineer a bully record and I thought I would be so micromanaging and annoying," she says. "But I was like, 'I hired you for a reason, and I think you're really talented, so do your thing.' But on this record it's just J.T. and I playing everything, and I just kind of let go of the idea of making it this live, well-polished thing. It's no longer that. When I'm working in that way, I'm picking my battles and a lot of times my battles aren't 'how do these room mics sound on the drums.' That changing and experimenting is just all part of the evolution and the process. It all worked out."
Bully's Lucky For You is out now on Sub Pop
The post Bully on Lucky For You and working well with others with ADHD appeared first on Guitar.com | All Things Guitar.
Source: www.guitar-bass.net