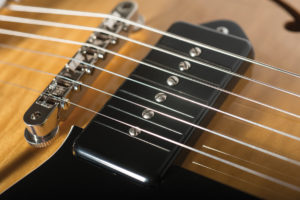 Collings I-30 LC
The Texan company reinvented the ES-335 with its much-admired I-35 model. Now it's the turn of the ES-330. Chris Vinnicombe takes a look under the hood…
The Collings Guitars story began in the mid-1970s, when Bill Collings moved from Ohio to Houston, Texas, ditched his pre-med course in favour of an engineering job and began building guitars in his kitchen. Although Bill sadly passed away in July 2017 following a battle with cancer, he left behind a formidable instrument-building legacy and a company famed for its exacting standards whose instruments are loved by artists around the world.
Though Collings' reputation as one of luthiery's leading lights was built on his flat-top and archtop acoustics, the company introduced its first mandolins in 1999 and by 2006 Collings was building electric guitars, too. First seen in prototype form at Winter NAMM then officially unveiled in November 2017, put simply, the Collings I-30 is to the Gibson ES-330 what the I-35 is to the ES-335.
Although its inspiration comes directly from Gibson's golden-era in Kalamazoo, a closer look at the I-30 reveals that a series of intelligent refinements have been carried out down in Austin, Texas. Aside from its more compact 15-inch lower bout, the most dramatic departure from the ES-330 blueprint can be discovered by peering through the I-30's bass-side f-hole. Unlike the hollow interior of an ES-330, the Collings features parallel trestle braces.
Though trestle bracing was pioneered by Gretsch in the late 1950s and is much more commonly associated with that particular G-brand, the principle in the context of a Gibson-style design is the same: by coupling the guitar's top to the back you increase sustain and also decrease its susceptibility to feedback. Here, inside the I-30, the Honduran mahogany neck is also coupled to the tail block via the bracing design. Along with the extra-long mortise and tenon neck joint, this promises to be a recipe for the I-30 LC to have more solidbody-like sustain characteristics.
The trestle bracing certainly doesn't add solidbody-style weight to the equation – at 5.3lbs the I-30 isn't going to give anyone back trouble. Although there's a touch of neck dive – something that's not uncommon with compact hollowbody designs – it's easily balanced by our right forearm when playing and doesn't cause discomfort.
Everywhere you look, this guitar bears testimony to the attention to detail exhibited during the Collings R&D and build processes. The arched three-ply maple top and back are constructed with grain orientation and ply thickness optimised for weight, acoustic response and feedback resistance. The outer layers have a breathtaking flame that shifts dramatically depending your viewing angle and, combined with occasional flecking, it's reminiscent of the timber used by Gibson during the Burst era.
The I-30 differs from a classic Gibson ES-330 in the use of sustain-enhancing, feedback-suppressing trestle bracing inside
The way that the rear body binding continues seamlessly around the heel is another marker that we're dealing with virtuoso guitar manufacturing, while the ultra thin (between 0.005-0.007 inches) gloss nitrocellulose finish has been applied flawlessly. Collings' 'haircut' headstock outline is still one of the most elegant twists on a vintage theme and here it's capped with an ebony veneer and mother of pearl logo.
If we're being fussy, a thicker pickguard with a more generous bevel might have a more appealing, vintage-style appearance, but overall this is a seriously good-looking electric guitar. And not just in this glossy Blonde incarnation, either – the 'aged finish and hardware' option in Jet Black is so cool it hurts. Time to stop swooning and start playing…In Use
The I-30's construction translates into an acoustic voice that's loud, woody and pushes single notes forward like a cannon. Sustain is impressive, while the neck's soft-shouldered C profile has a subtle hint of V that's reminiscent of the best Gibson necks of the 1950s and is sumptuously comfortable. With every decade of playing that passes it'll no doubt feel even better.
Unlike an ES-330, the 335-style 19th fret neck join on the I-30 offers access to all 22 of the guitar's beautifully installed medium-jumbo frets, while bending strings at that kind of altitude isn't as cramped an experience as it can be in the tighter cutaways of other scaled-down Electric Spanish outlines.
Although the ES-330 and Casino have a reputation for indie jangle and Britpop crunch, the I-30 feels like a smooth soloist's guitar – certainly more Grant Green than Paul Weller. Into a clean tweed amp with a splash of spring reverb, the scope for expression offered by the Lollar Dogear P-90s is broad. Crank up the amp for some throaty overdrive and there's no shortage of girth – the I-30 delivers fat, raunchy P-90 tones that are thick like molasses. It's more Grissom than Lennon, more Texas than Abbey Road Studio Two.
As with any hollowbody design – trestle braces or not – at gig volumes with grit dialled in, you have to pick your spot carefully before embarking on the tightrope walk between musical feedback and a maelstrom. Grabbing a more traditionally constructed ES-330 style guitar with a 16-inch hollow body for comparison (in this case an Eastman T64/v) the Collings blooms into feedback in a less vicious and more controllable manner than the Eastman. Where the larger hollowbody quickly erupts into a midrange-y howl, the Collings stays musical for longer.
With suitable ambient effects, this edge-of-feedback zone is one of the most fun areas to inhabit in all of guitardom. Providing you ride it carefully with either the onboard controls or a volume pedal, it's possible to create no end of spooky atmospherics. That movie-soundtrack gig awaits…
Rolling back the volume until we're no longer on the edge of a precipice, it's interesting to note that the Eastman's Duncan Antiquity P-90s have livelier upper harmonics than the Lollars and the bigger body also delivers deeper bass. In contrast, the Collings has a fuller helping of midrange cream and a sophisticated smoothness, while simultaneously offering more push and a level of sustain that's more like a solidbody or centre-block equipped semi.
There's no getting away from the fact that five grand is a lot of anyone's money to drop on a guitar, and with that kind of budget you could pick up a stellar vintage Gibson hollowbody that will appreciate in value over time. That said, the Collings is a guitar for life too, and it's been built with a level of love and care that is rare even in this lofty price bracket. You might even prefer the smoother ride it offers…KEY FEATURESCollings I-30 LC
• PRICE £5,099 (inc hard case)
• DESCRIPTION Hollowbody electric guitar. Made in USA
• BUILD Maple laminate body with non-grained ivoroid binding and parallel trestle braces, set Honduran mahogany neck, 12" radius rosewood fingerboard with non-grained ivoroid binding and mother-of-pearl 5mm dot inlays, 22 medium-jumbo 18% nickel-silver frets, ebony headstock veneer, bone nut
• HARDWARE Kluson ABR-1 bridge (nickel-plated zinc w/ retaining wire), Collings trapeze tailpiece, nickel Gotoh tuners w/ ivoroid buttons
• ELECTRICS 2x Lollar Dogear P-90 pickups w/ custom phenolic covers, 3-way toggle pickup selector switch, 50s-style wiring with 2x volume, 2x tone controls (DiMarzio 500K) and Jupiter Vintage Yellow capacitors
• SCALE LENGTH 24.8"/631.8mm
• NECK WIDTH 43.2mm at nut, 52.4mm at 12th fret
• NECK DEPTH 22.2mm at first fret, 25.1mm at 12th fret
• STRING SPACING 36.1mm at nut, 53.0mm at bridge
• WEIGHT 5.3lb/2.4kg
• LEFT-HANDERS Yes (10% upcharge)
• FINISH Blonde gloss nitrocellulose. See website for custom options, left- handers and finishes
• CONTACT Coda Music 01438 350815, www.coda-music.com, www.collingsguitars.comThe post Collings I-30 LC appeared first on The Guitar Magazine.
Source: www.guitar-bass.net