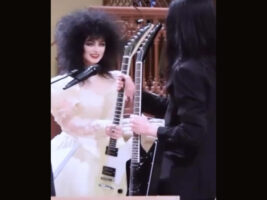 Couple exchange Gibson Explorers at wedding instead of rings
A US-based couple have made headlines across the globe having exchanged Gibson Explorer guitars instead of rings at their wedding.
READ MORE: Gibson's behind-the-scenes documentary series, The Process, is back for season 2
The pair, Madi Danger and Jay Aspen, decided to throw tradition to the wind when it came to their wedding, opting for a gothic theme – they even decided to walk down the aisle to Ozzy Osbourne's Mr. Crowley, and round things up at the end of the ceremony with The Cure's Lovesong.
Their wedding has gone viral across the internet and made headlines, as footage of Danger and Aspen exchanging guitars has caught people by surprise. Danger gave Aspen a Classic White model which matched her 80s-style dress, whilst Aspen handed over the Explorer with an Ebony finish.
Danger has revealed to The Mirror that she and her husband were "almost more excited" to receive the Gibson Explorers than to get married, as they'd been kept hidden until the big day.
"One day we were talking about what guitars we wanted and we were looking on Gibson's website at the Explorers," she explained "I joked about us exchanging those at our wedding then we decided to do that instead."
She added, "I really like Victorian-style rings but they're hard to find and the ones we saw looked really cheap and awful. Jay didn't want to buy me a crappy ring and he doesn't like wearing rings anyway.
"It was really fun because the guitars had been hidden for so long. Like when the groom can't see the bride," Danger said.
According to The Mirror, Danger also plays piano and clarinet alongside the guitar. You can check out footage of their guitar-exchange below:
View this post on Instagram
A post shared by 𝕸𝖆𝖉𝖎 𝕯𝖆𝖓𝖌𝖊𝖗 (@madi_danger)
The post Couple exchange Gibson Explorers at wedding instead of rings appeared first on Guitar.com | All Things Guitar.
Source: www.guitar-bass.net