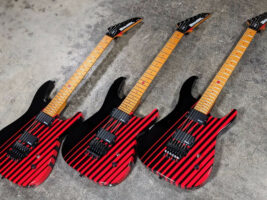 YouTubers launch guitar company for "era-correct instruments at accessible prices" 
Guitar-focused YouTubers have teamed together to launch Badlands Guitar Company which aims to release "era-correct instruments at accessible prices"
READ MORE: Guitar YouTubers to test gear on a remote island in G.A.S.TAWAY by 42 Gear Street
The company was founded by The Tone King and Philip McKnight, two popular creators on the YouTube video platform, it also has professional designer Luka Skalabrin on board, and musician Brian Olexy as co-owners.
Its first guitar, the GX1, is set for launch in Spring this year – it features a double cut-way alder body, maple neck, a custom "redline" graphic design, and an angular headstock for a "recognisable silhouette".
Buyers can choose between a Gotoh GE1996T locking tremolo or Gotoh 510FX-6 hardtail bridge (left and right handed models are also on offer) and every GX1 comes with custom-spec'd BGC M88 humbuckers, only available through Badlands Guitar Company.
The guitar will also come with a TKL Hardshell Case, Dimarzio ClipLock Strap, Runway Audio Instrument Cable, V-Picks Original Acrylic Guitar Pick and a Floyd Rose HexHider Magnetic 3mm Allen Wrench. You'll also get a signed certificate of authenticity, a limited edition Badlands Redline poster and other goodies as "case candy".
You can check out the introductory video from Badlands below:
The new GX1 will be produced in a limited run in 2023 on a built-to-order basis and the price is $2,499. Find out more at badlandsguitarcompany.com.
The post YouTubers launch guitar company for "era-correct instruments at accessible prices"  appeared first on Guitar.com | All Things Guitar.
Source: www.guitar-bass.net