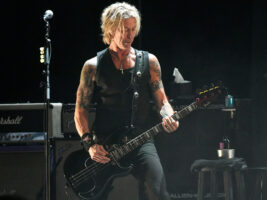 Duff McKagan to release solo album featuring Iggy Pop, Slash, and Jerry Cantrell
Duff McKagan of Guns N' Roses will release his third solo album this year, which is set to feature fellow bandmate Slash as well as some other huge guest stars.
READ MORE: Iggy Pop recalls wild meetings with Slash and Duff McKagan: "They arrived with a gallon of vodka and a bowl of blow"
The album, titled Lighthouse, will arrive on 20 October this year, and will also feature Jerry Cantrell of Alice In Chains, and Iggy Pop. McKagan contributed to Pop's 2023 album, Every Loser, and was a member of his live band while on his most recent tour.
The record features 11 tracks, and has a central theme of finding light amongst darkness. In a statement, McKagan says of the record (via NME): "The crashing… the cresting waves, the falling through of all that surrounds you. Life sometimes tosses us around, and we feel the want of comfort and the pull of home.
"A ship tossed like a toy through the Cape, sails ripped and the wood groaning with the scraping of its ballast…. a soul trying with all its might to find peace and a centre."
He adds, "Find a lighthouse. I have my lighthouse…. its beacon swirling in the darkness with her warmth and promise of nurture, love, laughter, and all that is true. Won't you be my lighthouse, give me light,… and bring me home."
You can listen to the title track and first single below:
The tracklist is as follows:
Lighthouse
Longfeather
Holy Water
I Saw God on 10th St.
Fallen
Forgiveness
Just Another Shakedown
Fallen Ones
Hope (feat. Slash)
I Just Don't Know (feat. Jerry Cantrell)
Lighthouse (Reprise) (feat. Iggy Pop)
Guns N' Roses are currently out on tour, with a headline slot lined up for this year's Glastonbury Festival. You can get tickets to see them on the band's official website.
You can pre-order Lighthouse now.
The post Duff McKagan to release solo album featuring Iggy Pop, Slash, and Jerry Cantrell appeared first on Guitar.com | All Things Guitar.
Source: www.guitar-bass.net