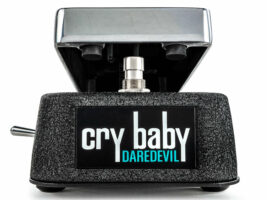 Dunlop and Daredevil team up to create Cry Baby Daredevil Fuzz Wah
Dunlop and Daredevil Pedals are teaming up to unveil the Cry Baby Daredevil Fuzz Wah, offering gritty fuzz to the iconic Cry Baby Wah.
READ MORE: Nita Strauss says there's less "gatekeeping" in pop music than rock and metal
The new pedal is a modded Cry Baby Wah with a custom fuzz circuit. This is controlled by a heavy-duty baseball bat switch to toggle the fuzz on and off, and internal pots to control pedal output and fuzz intensity.
According to Dunlop, this collaboration was born out of Daredevil's Johnny Water love for classic vintage circuits and the desire to create bold new sounds. He then spent several years working on this circuit, before presenting it to Dunlop to add to their line-up.
The pedal itself dons a vintage crinkle finish base with a polished aluminium rocker top and a custom tread.
"The release of this fuzz wah is pretty much a full-circle moment. The whole beginning of my path as a pedal builder started with me and a Cry Baby pedal, taking it apart, and just seeing what's in there and what I can do with it," says Wator.
"I really care about this, and I want to inspire people," Johnny says. "I want it to be unique, and I want it to be well made, and I want musicians to take this, and do something incredible with it…Dunlop easily picked up on why I do this, and they reciprocated that in a really cool way."
You can watch a video featuring the collab below:
The Cry Baby Daredevil Fuzz Wah is available for preorder now at $229.99 from most retailers. The pedal is planned to ship June 1st.
For more information, you can head to JimDunlop.com
The post Dunlop and Daredevil team up to create Cry Baby Daredevil Fuzz Wah appeared first on Guitar.com | All Things Guitar.
Source: www.guitar-bass.net