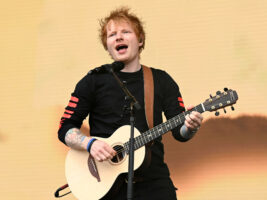 Ed Sheeran has said that he'll quit music if he loses copyright trial
Ed Sheeran has claimed that he will quit music if he loses the copyright infringement trial, accusing him of plagiarising Marvin Gaye's Lets Get It on.
READ MORE: Cesar Gueikian named President/ Interim CEO of Gibson, James Curleigh steps down
Speaking to a Manhattan court on Monday (1 May), Sheeran reportedly said that he is receives a guilty verdict that he will be "done" with music.
"If that happens, I'm done, I'm stopping. I find it really insulting to devote my whole life to being a performer and a songwriter and have someone diminish it."
The lawsuit was filed by the daughter of Ed Townsend, who co-wrote the 1973 soul classic.
Townsend's daughter, Kathryn Townsend Griffin, claims that the Sheeran hit Thinking Out Loud unlawfully copies the harmony, melody, and rhythm of Gaye's tune. Sheeran has dismissed these claims, arguing that any similarities between the songs are merely due to basic songwriting "building blocks".
Thinking Out Loud was co-written by Sheeran and collaborator Amy Wadge at the singer's home. It was then later released as a single and added to his second studio album, Multiply.
According to Townsend Griffin, the plagiarism claims arose when footage surfaced of Sheeran performing a melody of Thinking Out Loud and Let's Get It On.
However, Sheeran rebutted the claims, stating that he performed many medleys of the song using classics from Van Morrison to Dolly Parton.
Also during the trial, Sheeran had to play the guitar for the court, in order to explain his song writing process.
The post Ed Sheeran has said that he'll quit music if he loses copyright trial appeared first on Guitar.com | All Things Guitar.
Source: www.guitar-bass.net