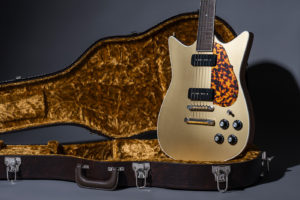 Gear of the Year 2018: Premium electric guitar nominees
Here are our eight nominees for the best mid-priced electric guitars over £1,900 of the year.
We've come to the end of our Gear of the Year series for 2018. Drawing the nomination process to a close are the best premium electric guitars we've reviewed over the past 12 months. These eight nominees represent meticulous design, unrivalled craftsmanship and undeniable quality. If money is no object, these are the guitars you ought to be looking at.
Friedman Vintage-T
This guitar has inherited fatness from the genetic influence of Kalamazoo, but the 50s-style Gibson wiring delivers a broad range of tones thanks to varying degrees of pickup blend, and volume controls that roll-off without too much treble loss. If you play alt-country, alternative rock, punk rock or power pop then it's tough to think of a better (or more bullet-proof) blue-collar guitar than the Vintage-T with which to take care of business as the years of sweat and toil on the road roll by.
Read our full review here.
Collings I-30 LC
The I-30's construction translates into an acoustic voice that's loud, woody and pushes single notes forward like a cannon. Sustain is impressive, while the neck's soft-shouldered C profile has a subtle hint of V that's reminiscent of the best Gibson necks of the 1950s and is sumptuously comfortable. With every decade of playing that passes it'll no doubt feel even better.
Read our full review here.
Manson Guitar Works MA-25 Anniversary Edition
The MA-25 fills the supermassive black hole in your heart with big, heavy distortion. Stomp on the nearest filth generator and you're rewarded with immense, velvety chords that ring out with near-infinite sustain, and single notes that cut through with clarity and precision. The tone stays crisp and solid on every fret, with no loss of midrange punch on the unwound strings even at the excitable end of the board.
Read our full review here.
PRS Silver Sky
Dimensionally, John Mayer and Paul Reed Smith's Silver Sky feels very similar to our pre-CBS guitar with an almost identical width at the nut, while the neck's rounded shoulders are supremely comfortable, as are the fingerboard's softened edges. The profile evokes the right period without being too skinny down behind the first and second fret, where a scarf joint creates the headstock's back angle.
Whether you are playing with a thumb over the top – as is Mayer's general way of doing things – or prefer to play full barre chords, you are unimpeded, and the immaculately installed and dressed fretwire definitely helps with clarity and note definition.
Read our full review here.
Gretsch G6118T-135 Anniversary Limited Edition
The G6118 balances modern features with vintage authenticity. The 50s-spec body and trestle bracing coexist with locking tuners, a streamlined control layout and contemporary locking strap buttons. The neck profiles is similar to the G5420TG (the more affordable Korean model released at the same time), but the slightly slimmer and softer shouldered Japanese neck has a sophistication and vintage authenticity that we prefer.
What's more, the High Sensitive Filter'Trons look like the real deal, and the elegant plexi pickguard surpasses the Korean version's crude bevel and clunky shape.
Read our full review here.
Lowden GL-10 Koa
The GL-10 is an outstanding guitar. Compared to Lowden's stellar acoustics, the standard of woodworking and materials has not been compromised. But it goes deeper than that. Lowden has somehow imbued the spirit of its acoustic models into this first attempt at designing a production electric, and that's something special.
Read our full review here.
Frank Brothers Arcade Model
If you plan on picking up a Frank Brothers guitar for a five-minute noodle then be warned: instruments as good as this have a habit of stopping time. Sure, there's extraordinary clarity and precision, notes are complex, there are bags of sustain… all of these aspects of the Arcade Model's appeal are quantifiable. But its most hypnotic – yet hardest to pinpoint – characteristic is the way in which it encourages you to step outside of the familiar.
Read our full review here.
Vigier Expert Classic Rock
Although the Expert can sound like a late 60s Strat it certainly doesn't feel like one, something we feel will gratify Vigier no end. With a slew of options including pertinent alternatives when it comes to specifications and finishes, it seems that Vigier has most bases covered. It may not be a snip at £2,269 but make no mistake; the Expert Classic Rock is a high-quality, modern instrument that's well worth considering.
Read our full review here.
The post Gear of the Year 2018: Premium electric guitar nominees appeared first on The Guitar Magazine.
Source: www.guitar-bass.net