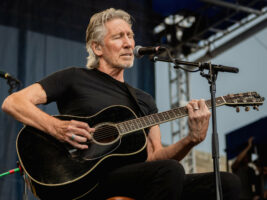 German city axes Roger Waters' concert, calls him "one of the world's most well-known antisemites"
The German city of Frankfurt has cancelled an upcoming concert by Roger Waters, calling the singer "one of the world's best-known antisemites."
READ MORE: Zakk Wylde on Tony Iommi: "All of us that are working in this field of music, this guy has actually employed all of us."
Frankfurt's municipal government announced the cancellations in a statement last week, citing Waters' support for the Boycott, Divestment and Sanctions (BDS) movement, antisemitic imagery at his shows and past interviews with media affiliated with the Hamas terror group.
The former Pink Floyd rocker had been scheduled to perform at the publicly owned Festhalle venue on 28 May. Frankfurt's statement noted that the arena had detained 3,000 Jews after the Kristallnacht pogrom in 1938, before they were sent off to concentration camps.
Frankfurt setzt ein Zeichen gegen Antisemitismus.https://t.co/SJW3Mv5TOm
— Frankfurt am Main (@Stadt_FFM) February 24, 2023
Earlier this month, Polly Samson, lyricist and wife of Pink Floyd guitarist David Gilmour accused Waters of antisemitism in a public tweet, saying "Sadly @rogerwaters you are antisemitic to your rotten core. Also a Putin apologist and a lying, thieving, hypocritical, tax-avoiding, lip-synching, misogynistic, sick-with-envy, megalomaniac. Enough of your nonsense."
Shortly after, Gilmour himself retweeted the comment, writing "Every word demonstrably true."
Every word demonstrably true https://t.co/KWk4I3bMTN
— David Gilmour (@davidgilmour) February 6, 2023
Waters' camp has since responded to Samson's post, stating, "Roger Waters is aware of the incendiary and wildly inaccurate comments made about him on Twitter by Polly Samson which he refutes entirely. He is currently taking advice as to his position."
The post German city axes Roger Waters' concert, calls him "one of the world's most well-known antisemites" appeared first on Guitar.com | All Things Guitar.
Source: www.guitar-bass.net