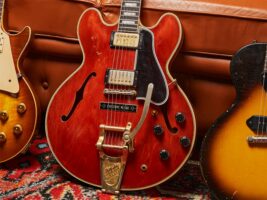 Gibson is now selling true vintage guitars, including a '59 Burst
Gibson has announced that it will be selling its own selection of authenticated vintage guitars through its new Certified Vintage programme.
READ MORE: Carlos Santana's PRS Silver Sky prototype has appeared on Reverb
The first five guitars for sale from Gibson are a 1959 Sunburst Les Paul Standard, a 1961 Les Paul Standard (what would now be termed an SG), a 1959 ES-355 Mono, a 1982 Modern and a 1956 Les Paul Junior. Future offerings will include everything from "Golden Era blue-chip guitars, prototypes, celebrity-owned guitars, and 70s and 80s models directly from the Gibson Vault."
Guitars bought through Gibson's Certified Vintage programme come with a lifetime warranty. Notably (and possibly to the chagrin of any guitar historians reading) the brand claims that "Only Gibson can verify the true value and authenticity."
Only the price of the Moderne has been made public (a cool $12,500) – but, don't hold out for a bargain for the rest of the guitars. Vintage Gibsons – especially 1959 Les Paul standards – command famously high prices. It wouldn't be too surprising if some of the instruments were priced in the hundreds of thousands. If you happen to have that sort of cash lying around, you can give the Gibson Garage a call to express your interest.
Find out more over at gibson.com.
The post Gibson is now selling true vintage guitars, including a '59 Burst appeared first on Guitar.com | All Things Guitar.
Source: www.guitar-bass.net