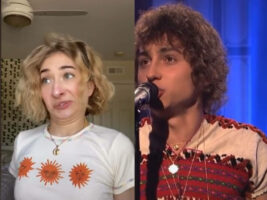 Greta Van Fleet are being mocked relentlessly on TikTok
Greta Van Fleet, the current forerunners of the new wave of classic rock, have become the subject of a new viral TikTok trend, centring around a 2019 clip of the band performing on SNL. Hundreds of videos have been uploaded, some with hundreds of thousands of views, all light-heartedly mocking the group.
READ MORE: John Mayer starts TikTok account, gets rebuked by Taylor Swift fans: "You're not safe here"
You'd be hard pressed to find a rock band more divisive than Greta Van Fleet. On the one hand, they've rocketed to international stardom, released multiple charting albums and gained a Grammy award for their debut EP. On the other hand, critics of their music are not hard to come by. Pitchfork gave their first full-length 1.6 out of 10, writing that "the poor kids from Frankenmuth, Michigan don't even realize they're more of an algorithmic fever dream than an actual rock band."
That fever dream has broken into even more surreal territory with this TikTok trend. It riffs on frontman Josh Kiszka's odd delivery in a clip shared by a Greta Van Fleet stan account. Users are taking it upon themselves to impersonate Kiszka, or imagine what bizarre instructions the autocue could possibly be giving him. Take a look below.
@soupytime
#duet with @joshkiszkashair i literally have not been able to stop thinking about this video
♬ original sound – joshkiszkashair
@mererknee
#duet with @joshkiszkashair how I feel when I brush my hair out a lil bit :////// #greta #gretavanfleet
♬ original sound – joshkiszkashair
@taylorevereth
#duet with @joshkiszkashair #gretavanfleet #foryou #foryoupage #music #joke
♬ original sound – joshkiszkashair
@moodfuneral
#duet with @joshkiszkashair my favorite thing I've seen all year
♬ original sound – joshkiszkashair
@nancy.jo.official
#duet with @joshkiszkashair SNL it's time you cast me already #gretavanfleet #gvf #snl #petedavidson
♬ original sound – joshkiszkashair
Response to the trend from the band's fans has been varied. Some have taken it all in good fun, with even some of the above creators being fans of the band's work. Others have responded less positively: one fan wrote "Y'all stop making fun of Greta Van Fleet, they are honestly a good band." This then sparked an argument about their merits which lasted well over 100 comments.
Detractors have also used the trend to share some of their own criticisms, with the inevitable comparisons to Led Zeppelin cropping up quite frequently
Others have responded in ways which cannot be assigned simple descriptors such as "positive" or "negative." For example, one user wrote: "honestly, he kinda cute and I would like shave his legs."
The band themselves have not commented on the phenomenon publicly. Guitar.com has reached out to Greta Van Fleet representatives for comment.
The post Greta Van Fleet are being mocked relentlessly on TikTok appeared first on Guitar.com | All Things Guitar.
Source: www.guitar-bass.net