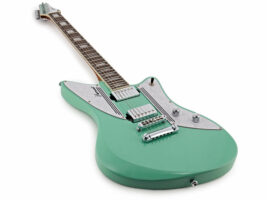 Hartwood Charger review: a sleeper rock machine disguised as a vintage oddity
Browse Gear4Music's online storefront and you'll notice a wide array of house brands: guitars with SubZero, Hartwood and Gear4Music, all promising good performance on a small budget. It's the Charger from Hartwood that we're looking at today: a £250 offset that boasts a unique look – and an even more unique set of specifications. Let's dive in.
READ MORE: JET Guitars JS-400 SFG Relic review – is this the best sounding affordable S-type on the market?
First things first: this guitar looks killer, that's undeniable. Although the body clearly nods towards Fender offset guitars in its sleek, pointed-forward way, that's not the only thing going on – characterful touches like seven-ply binding on the fretboard and the dual islands of pickguard material flanking the pickups elevate tell us this certainly ain't a run-of-the-mill derivative house brand design.
While it looks so surf you can hear the sea when you hold it to your ear, but the full specs shake out to be much more Kalamazoo than California. Offset aesthetics and 25.5-inch scale aside, there's more in common with a Les Paul than a Jazzmaster here: two humbuckers, a three-way switch, a two-piece tune-o-matic hardtail and a rather chunky set neck with a 14-inch radius fretboard.
In Use
Given the specs, actually playing the thing barely resembles playing any kind of traditional offset. Regardless, things go pretty smoothly – much more so than you might expect for this price. The roasted maple neck has a lovely satin finish that you don't stick to, despite the chunky feel, and all of the frets are smooth, and – importantly – level.
There's only one real thing that trips us up, and that's the transition between the thin finish on the neck to the thicker paint on the body. There's a noticeable lip between the two, which you will feel when playing towards the dusty end. But that's the price you pay for a guitar with these aesthetics at this price.
The hardware all works as intended, even if the tune-o-matic bridge did arrive to us with each saddle perfectly centered. It might look neat, but it's not a recipe for good intonation. Otherwise, the nut is well-cut and the locking tuners are a nice touch – while they're not name-brand high-end fare, they feel solid enough and do the job.
So far so good, but sub-£300 instruments normally falter when it comes to the pickups. Luckily, you could definitely get away without swapping them out. With some overdrive, each one performs just fine – not too harsh, or too flabby, and the bridge pickup excels at rock and metal rhythm tones. This is probably because it's much, much hotter than the neck.
Checking the resistance readings (never the full story, but helpful nonetheless) and we can see the neck reads at 7.8 K Ohms, the bridge a mighty 15 K Ohms – that explains the slightly unbalanced volume between the two, and the bridge's performance in high-gain settings. A cleaner sound, however, does let through the more brittle character of each pickup, common in cheaper ceramic humbuckers: pick attacks are sharp and slightly ice-picky, and sustain is a little wanting.
If you want to bring the guitar sonically closer to what it actually looks like, there is a coil-split option via a push-pull switch on the tone pot. The single-coil tones, unfortunately, aren't great. We find ourselves drawn back to the full humbucker sounds, even for cleans, as it's ultimately a choice between 'slightly thin' and 'very thin.'
So if you do want to make this guitar as surfy as it looks, you're gonna want to grab a new set of pickups. But, if you want a sleeper rock machine, you can definitely get away with keeping things stock. Hartwood makes no secret that the Charger is built to rawk out in the product blurb, and so that does seem like its intended purpose. Given the price, the fact that the pickups aren't a total write-off is an achievement: for a beginner they're more than adequate, and if you're a modder, you probably already prepared yourself to swap them out anyway.
So does the Hartwood Charger succeed? Absolutely. Its slightly out-there design language is more than enough to set it apart from the rest of the house-brand pack, and as a functional instrument it's pretty damn good for the price: a great starting point for a beginner, or for a mod project. Just don't expect it to do much surfing out of the box.
Key Features
PRICE £249.99
DESCRIPTION Set-neck offset electric guitar
BUILD Alder body, set roasted hard maple neck with 14″ radius, thermally-treated maple ply fretboard, 24 frets
HARDWARE Locking tuners, tune-o-matic-style hardtail bridge and tailpiece
ELECTRONICS Unbranded chrome-covered humbuckers
SCALE LENGTH 25.5″ (648mm)
NUT WIDTH 43mm
LEFT-HANDERS No
FINISHES Peppermint (as reviewed), Strawberry Milkshake
CONTACT gear4music.com
Like this? Try these
Squier Affinity Series Jazzmaster £269
JET Guitars JS-400 SFG Relic £329
Cort G250 Spectrum £329
The post Hartwood Charger review: a sleeper rock machine disguised as a vintage oddity appeared first on Guitar.com | All Things Guitar.
Source: www.guitar-bass.net