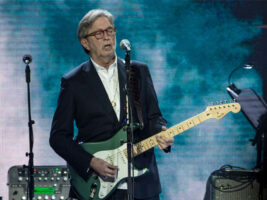 "He's a great man!" – Eric Clapton addresses his attempt to donate to RFK Jr's campaign
Eric Clapton has addressed his attempt to donate to Robert F Kennedy Jr.'s presidential campaign.
The musician had formerly tried to donate $5,000, but his attempt was invalid as Clapton is not only an English citizen, but his donation was also over the limit of $3,300.
READ MORE: Brian May recalls dedicating a song to Eric Clapton: "I think he hated it!"
As we reported back in July, Clapton describes himself as a "fan of freedom", however, for the last couple of years, he's shown support for anti-vax figures and has exclusively given interviews to anti-vaccine outlets, including Kennedy's own website.
It was recently revealed that Clapton attempted to pledge $5,000 to the conspiracy theorist and anti-vaccine politician by listing his city as "England," and by blanking out the US-specific address details by listing his state as "ZZ" and his zip code as "99999".
In a new interview with The Real Music Observer on YouTube, Clapton spoke about the attempted donation, as host David Spuria had shared that people had been sending him articles surrounding Clapton and his connections with the politician and anti-vaxxer.
"That's good, the more the better! He's a great man, I admire him," he begins. "I tried to donate some money very naively being an English citizen, apparently it was illegal. You can't do that, you know? You have to be so… he asked me to talk to him like [how] we talk and he's about the only other person I talk like this to."
Also in the interview, Clapton explained how their connection began: "Before I did talk to Robert I asked around and said, 'what's the story?' and [they] said 'don't go near him, don't go near him! He'll take you down', Sounds like my kinda guy," he laughs.
"He says things that make sense about the country you live in and then the world, how to approach hostile situations. He knows how to approach a hostile situation."
RFK Jr is currently campaigning in the Democratic Primaries.
The post "He's a great man!" – Eric Clapton addresses his attempt to donate to RFK Jr's campaign appeared first on Guitar.com | All Things Guitar.
Source: www.guitar-bass.net