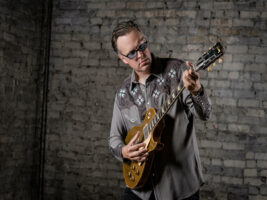 Joe Bonamassa announces new album Time Clocks
Joe Bonamassa has announced the release of his 16th studio album Time Clocks, due for release on October 29 via Provogue.
Recorded at Germano Studios/The Hit Factory in New York City with long-time producer Kevin Shirley, Bonamassa enlisted Bob Clearmountain on mixing duties (The Rolling Stones, Bruce Springsteen,Toto, Bon Jovi).
"What started out with the intentions of being a trio record turned into probably my most adventurous and involved record to date," Bonamassa admits. The backing band consists of eight musicians, including Late Night with David Letterman's Anton Fig on drums and percussion.
Bonamassa hinted at a new LP with the release of Notches back in July, and follows that with new single 'The Heart That Never Waits'. Watch the music video below.
Discussing the difficulties of recording during the Covid-19 pandemic, Bonamassa reveals the extent to which the band worked in order to remove any barriers from their traditional recording methods. "We found ourselves at Germano Studios, cutting music as a trio (but not trio music) and having to invent ways of making records when your lifelong producer is stuck in Australia due to travel restrictions," he reveals. "Kevin Shirley came up with a way of linking continents and consoles to where we had literally zero latency. Add Steve Mackey and Anton Fig to the mix, a few masks and curse words and we have the 'New York Record' aka 'Time Clocks'."
Time Clocks will also be Bonamassa's first album mixed to utilize spatial audio with Dolby Atmos and available for fans on Apple Music. The album artwork was designed by Hugh Syme, who's previously worked with Rush, Aerosmith, amongst others.
Joe Bonamassa talks in depth about his new album in issue 397 of Guitar Magazine, on sale 3 September. Subscribe to Guitar Magazine here.
The post Joe Bonamassa announces new album Time Clocks appeared first on Guitar.com | All Things Guitar.
Source: www.guitar-bass.net