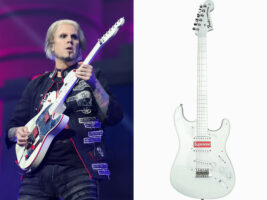 John 5's Fender Ghost Telecaster was inspired by the fashion brand Supreme
John 5 has admitted that his Fender Ghost Telecaster was inspired in part by the American fashion brand Supreme.
READ MORE: Elvis's Cherry Red Hagstrom Viking II could become the most expensive guitar ever
The Mötley Crüe guitarist explains to Guitar World that his signature axe – which was released by Fender back in May – was inspired by another Fender model back in 2017 that saw the manufacturer collab with, you guessed it, Supreme. That guitar featured an all-white aesthetic with pops of red, and even the Supreme logo between the pickups.
Credit: Fender
"I have to give credit where it's due," John 5 tells Guitar World. "I once saw and ended up buying a guitar Fender put out with Supreme. I still own it and I think it looks insane."
The resulting guitar unsurprisingly dons a similarly bright white finish but with blood red features, including the pickups the knobs and some of the smaller details such as the Fender logo.
"When we were starting to work on the Ghost, I said, 'Hey, can we do something like this where the neck and fretboard come completely white?'," he continued. "This is what we ended up with."
"I'm very proud of this guitar," he reflected. "I insisted on putting it through the wringer first and taking it on tour before the final release. I didn't want anything to go wrong, so I was trying to see if the white paint would wear off or if the toggle might break.
"The only way to make sure of the quality was to take it out for a few years. I was constantly using it and sweating all over it… nothing happened. This stuff won't break or wear away. It looks and sounds unbelievable and is 100 percent tough. Basically, it's a road guitar."
In other news, John 5 this week explained why he's opting to keep his improvisation in Mötley Crüe to a minimum, saying: "It's like you're looking at some sheet music; you're looking at Mozart, and you're like, 'Well, I'm gonna improvise over this part'. No. That's how those songs were written, how they were recorded, and how they should be performed. I wanted to give those songs respect."
The post John 5's Fender Ghost Telecaster was inspired by the fashion brand Supreme appeared first on Guitar.com | All Things Guitar.
Source: www.guitar-bass.net