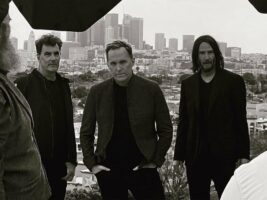 Keanu Reeves' band Dogstar has reunited after 23 years
Keanu Reeves may have been working on the newest John Wick film over the past year, but he has also been dusting off his bass guitar, as he has announced that his band are not only reuniting but are releasing new music.
READ MORE: Sammy Hagar on his fallout with Eddie Van Halen: "What happened with us at the end was such a shame"
In a post to Instagram, the actor and his bandmates confirmed that they will be making some new music, with some snaps of a recent photoshoot.
View this post on Instagram
A post shared by Dogstar (@dogstarband)
 
"Thank you everyone for the kind comments. We are overjoyed to see such a response. Honestly, didn't expect this. It makes us want to play out even more," the band wrote in the comments of the post. "We will be rolling out some new music this summer, followed by some gigs. As soon as it's all figured out we will let everyone know immediately.
"So much to do, but rest assured, we are on it and have assembled a fantastic team that are helping us. We are also going to make a music video to support our first tune. That's all I can say now."
Dogstar adds: "Can't wait to share our new music with everyone. It's the most satisfying and meaningful batch of songs we've ever done. Thanks again for being so patient with us. We truly have the best, most loyal fans!"
The band formed in 1991 and released two albums before their split in 2002 due to conflicting projects for Reeves, who had just found fame.
However before this, the band toured with Bon Jovi and opened a show for David Bowie.
To keep up with the band's updates, you can keep an eye on their Instagram.
The post Keanu Reeves' band Dogstar has reunited after 23 years appeared first on Guitar.com | All Things Guitar.
Source: www.guitar-bass.net