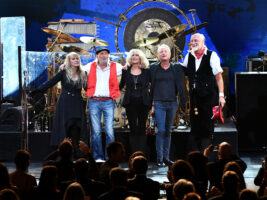 Lindsey Buckingham says Mick Fleetwood wants him back in Fleetwood Mac
Lindsey Buckingham, who was fired from Fleetwood Mac in 2018, believes that Mick Fleetwood wants him to rejoin the group.
READ MORE: "I was never any good at chords, I always preferred to play the tune": Peter Green on guitar, Fleetwood Mac and the Yardbirds
Buckingham, speaking to EW in a recent interview, revealed that there have been "intimations" from Mick Fleetwood, who he claims has been trying to piece the band back together.
"Mick – he didn't want to see me go in the first place – but he's talking about that," Buckingham said. "It's really going to take [Stevie Nicks] coming to that point of view, and I haven't spoken to Stevie in a long, long time, so I don't know where that's at."
Buckingham was fired from the band in January 2018, mere days after they were presented with MusiCares Person Of The Year Award by former US President Bill Clinton.
There have been differing accounts as to why Buckingham was sacked. The band told Rolling Stone in 2018 that it boiled down to a conflict in tour scheduling. Buckingham, however, claimed Nicks took issue with his behaviour during the award show.
Despite this, Buckingham has expressed hope in being welcomed back into the band. "We love each other and we reinforced each other's sensibilities in the band," he said during a recent appearance on the WTF With Marc Maron podcast . "It's my sense that pretty much everyone would love to see me come back."
The post Lindsey Buckingham says Mick Fleetwood wants him back in Fleetwood Mac appeared first on Guitar.com | All Things Guitar.
Source: www.guitar-bass.net